PSD loves to feed students! Check out the image below with the dates, times, and locations of our summer feeding program. Open to children ages 1-18 years.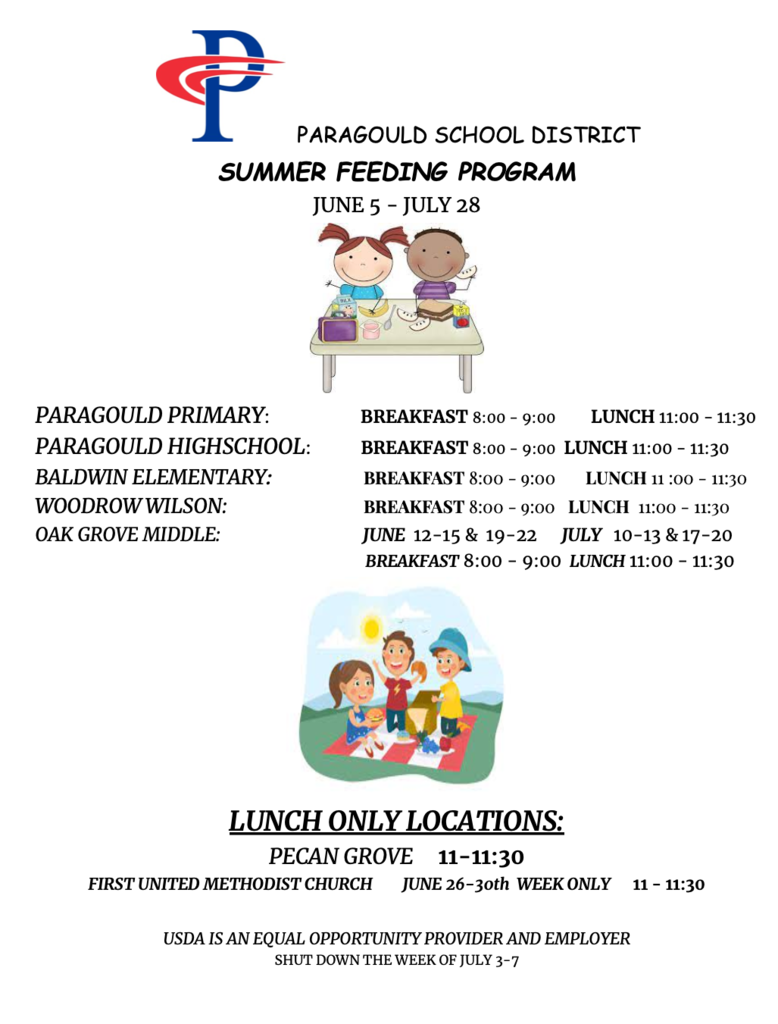 Field day is tomorrow! Make sure if your child is eligible, that you send them with the appropriate things! Sunscreen is highly recommended; musts are a change of clothes (including undergarments), towel, and a plastic bag to put wet clothes in. School dress code still applies, and please make sure your child does NOT wear a white t-shirt or a swimsuit. We're in the final countdown! Here's to a fantastic field day!
Please join us for our 4th quarter and End of Year awards assemblies on Wednesday, May 24. 6th grade awards will begin at 9:00 am in the OGMS gym; 5th grade awards will begin at 1:00 pm in the OGMS gym. Awards for 4th nine weeks AND end of year will both be given at these assemblies. We hope to see you!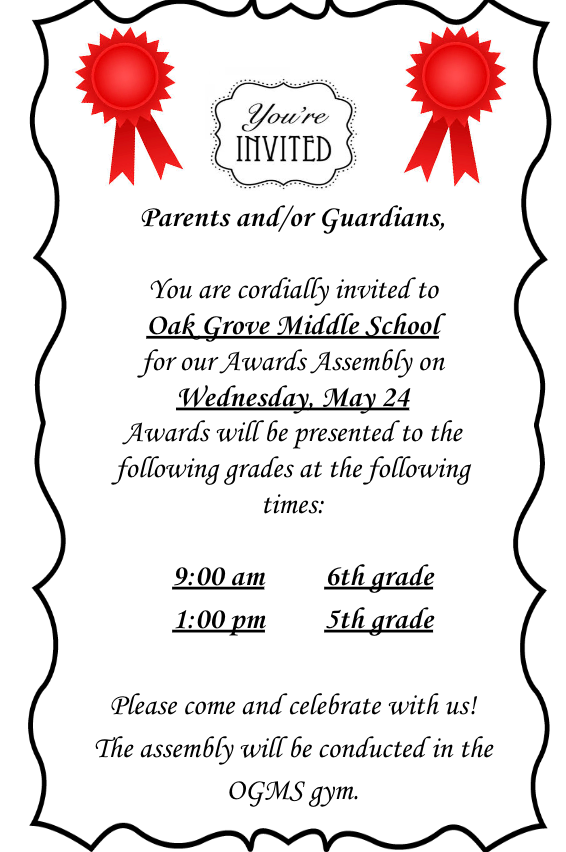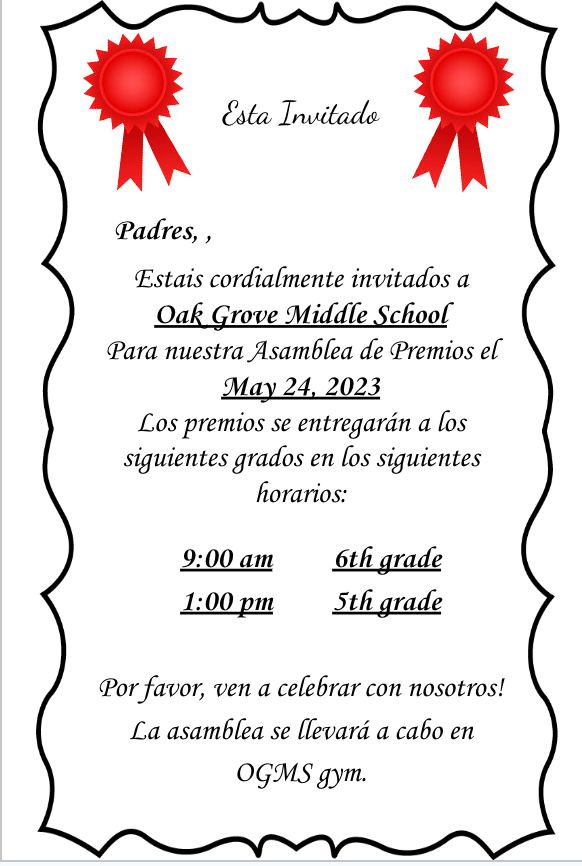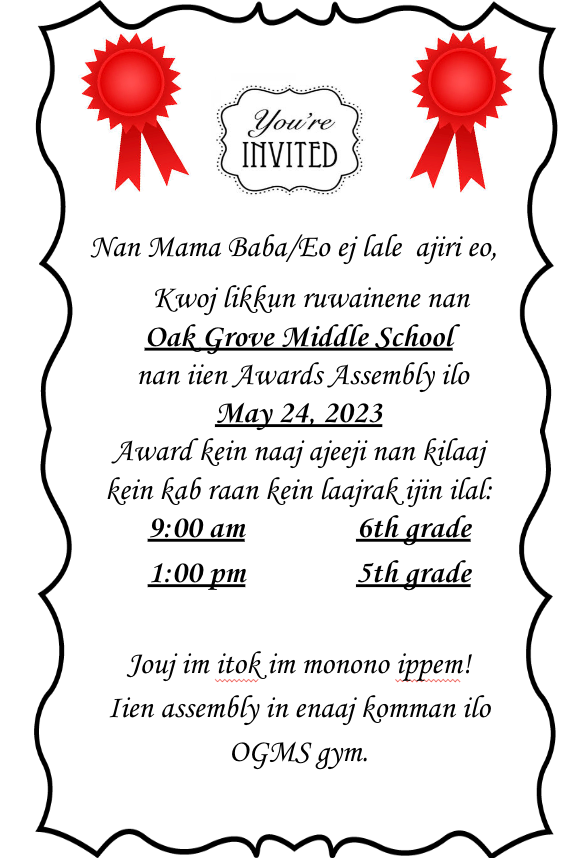 May Newsletters are coming home tomorrow!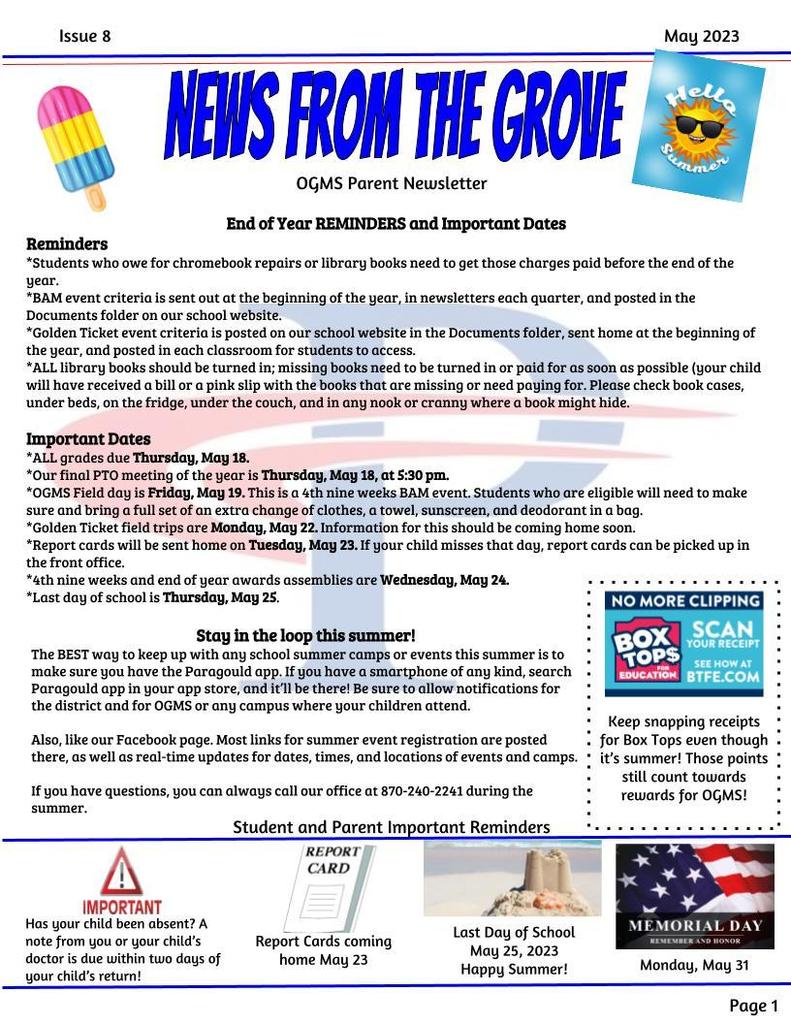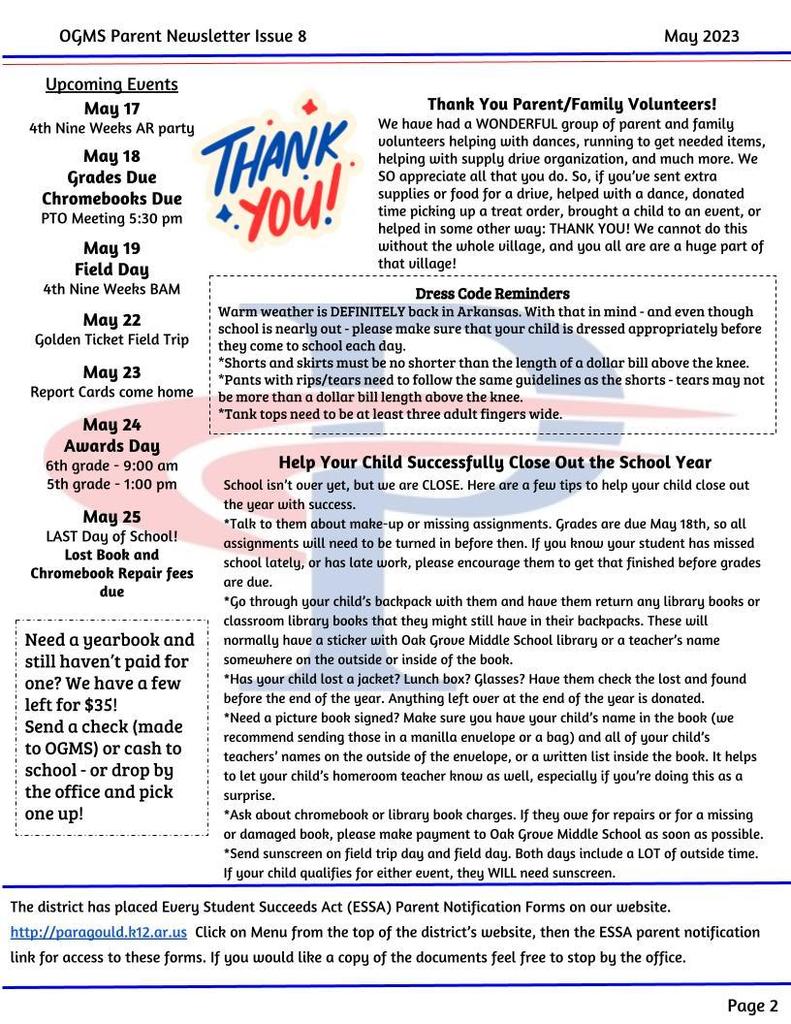 6th grade parents and carers: Your child will be registering for 7th grade classes on FRIDAY. Their registration forms are due to science teachers TOMORROW. If you need an extra copy (or haven't heard about this from your child) please contact your child's homeroom teacher to get an extra registration packet, or call our office at 870-240-2241.
Join us in celebrating our teachers and staff this week for Teacher Appreciation Week!
Join us (and bring your kids!) for the OGMS Wax Museum on Tuesday, May 9, 2023 from 5:30 to 7:00 pm. 6th grade will be in the cafeteria; 5th grade will be in the gym. Parents and carers, your students should have communicated with you about their projects and who they are for wax museum. If you have questions, contact your child's social studies teacher!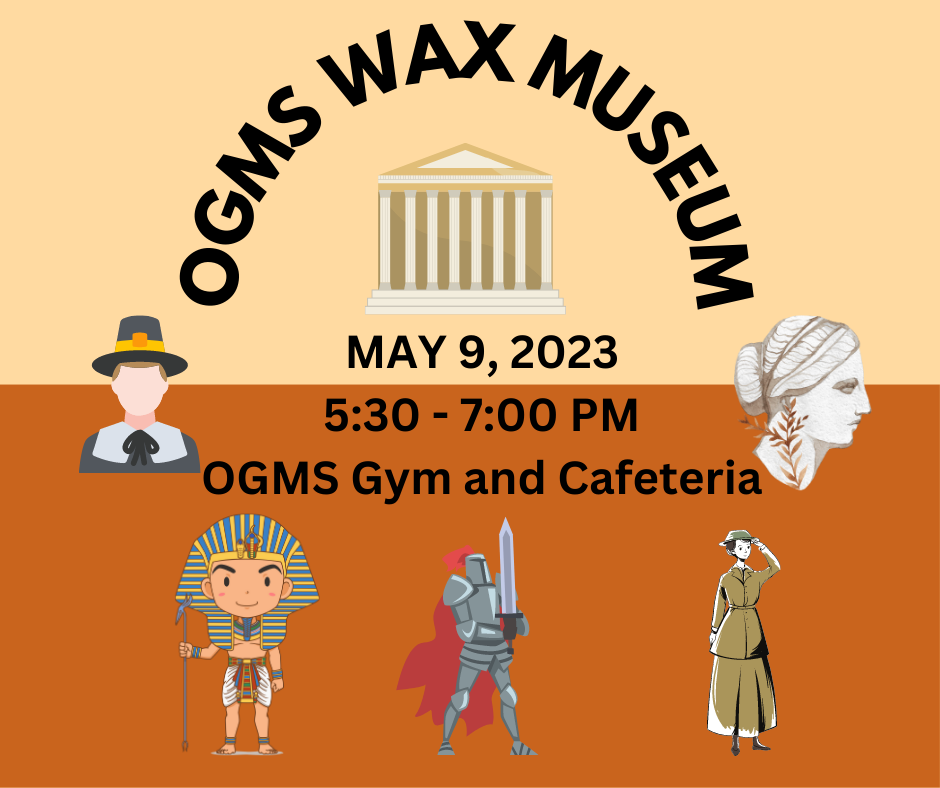 Parents and carers, we need YOU! Our PTO-sponsored spring fling dance is this Friday, and we still need volunteers. Please contact
kcook@paragouldschools.net
to sign up to help.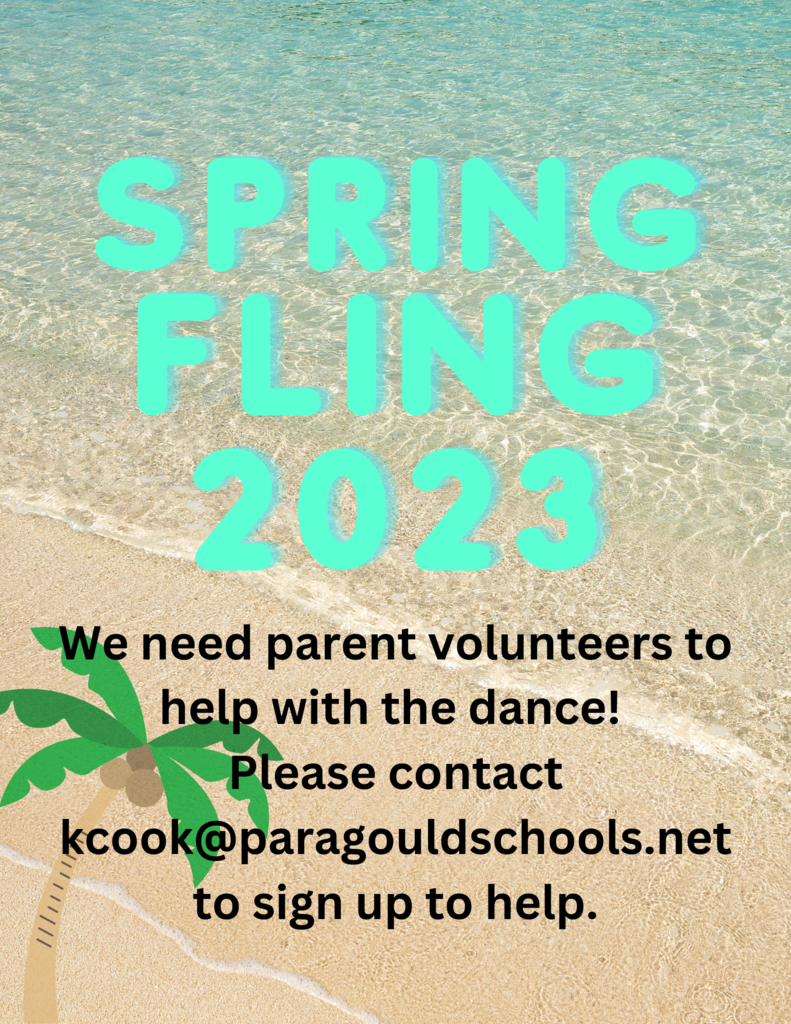 OGMS Ram Run is TOMORROW at Ram Stadium! Parents are welcome (although, please remember OGMS students may NOT be checked out from the event). 5th grade will participate from 9:00 am to 10:00 am; 6th grade will be on the field from 10:00 am to 11:15 am. We encourage students to apply sunscreen, wear comfortable clothes and shoes appropriate for walking/running. Questions? Contact our front office at 870-240-2241.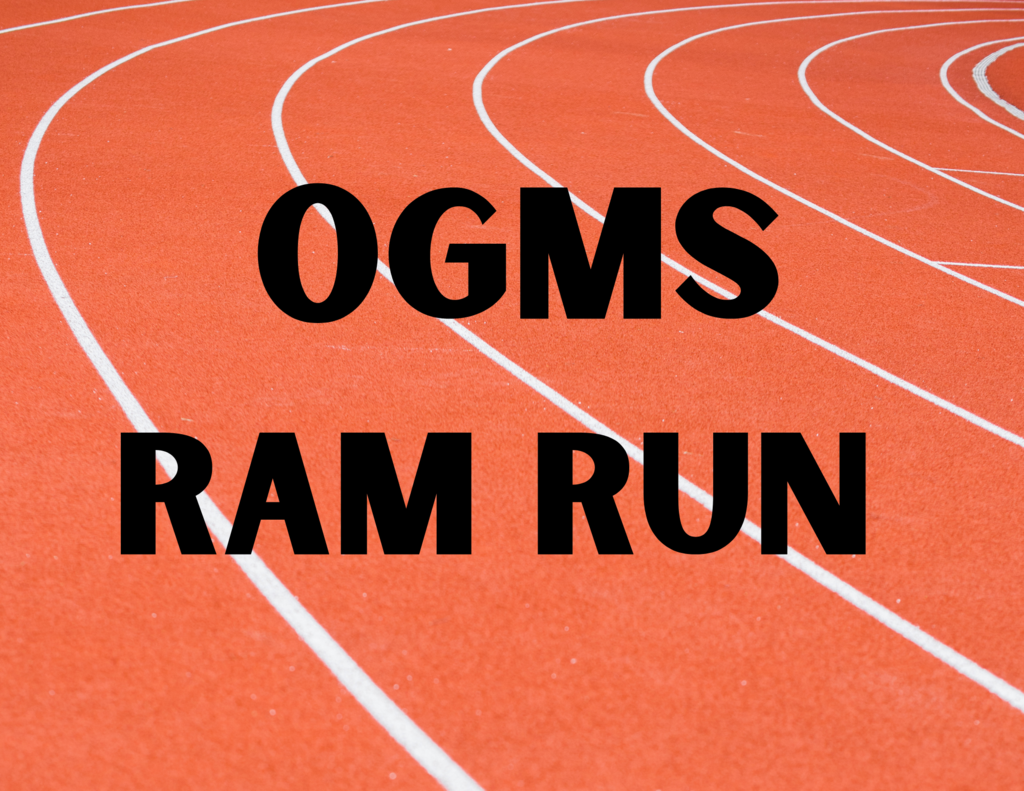 Less than fifteen 2023 yearbooks are left! If you want to get one for your child before they are gone, now is the time to buy one! Yearbooks are $35; payment can be check or cash (we suggest a check - made out to OGMS) and needs to be brought to Mrs. Dinkins or turned in to the front office. Get them while they're still available!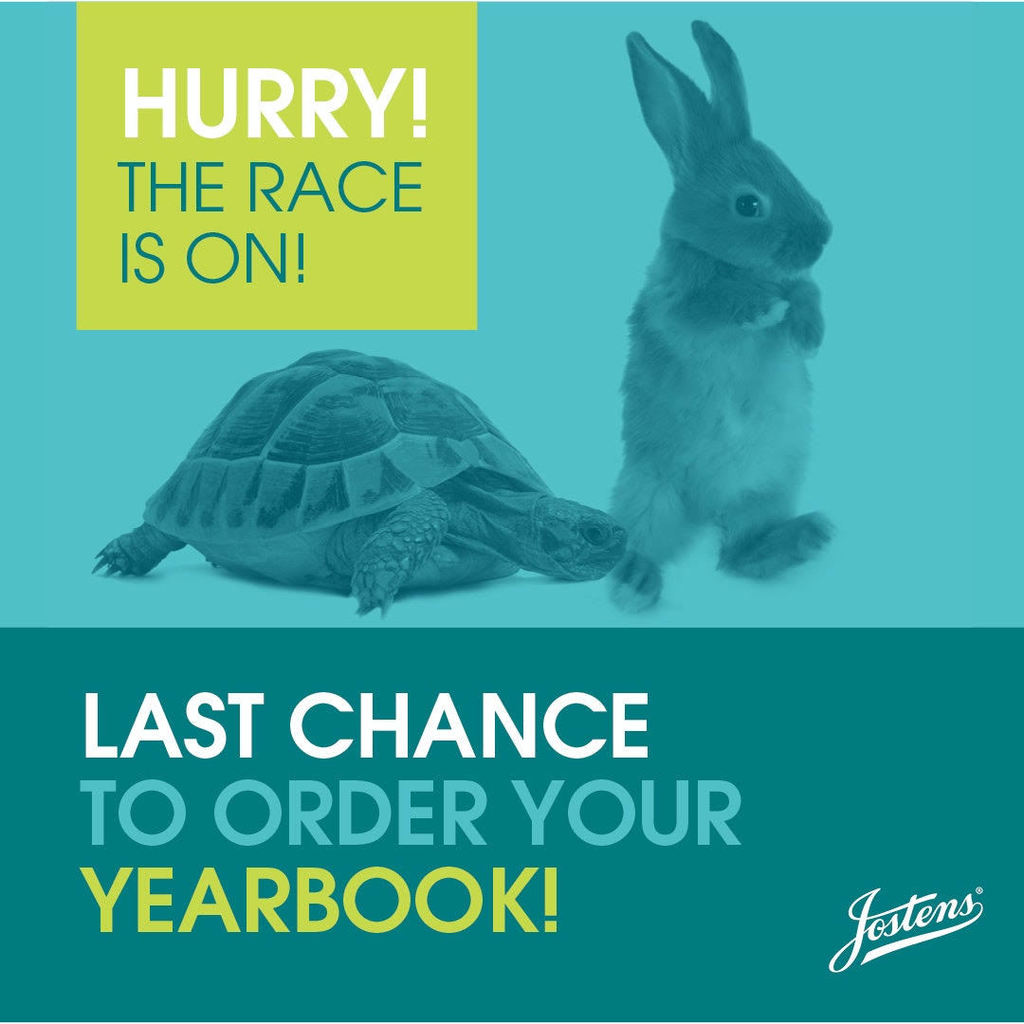 2023 OGMS Yearbooks are here! They will be handed out this week in a signing party. Yearbook staff still has a few yearbooks on sale for $35, and are selling signing pens (felt-tip, no-smear) for $2 for the signing party. Cash and check (made to Oak Grove Middle School) will be accepted for both 2023 yearbooks and signing pens. Don't let these memories pass!

The 2023-24 calendar is now available! Check it out below.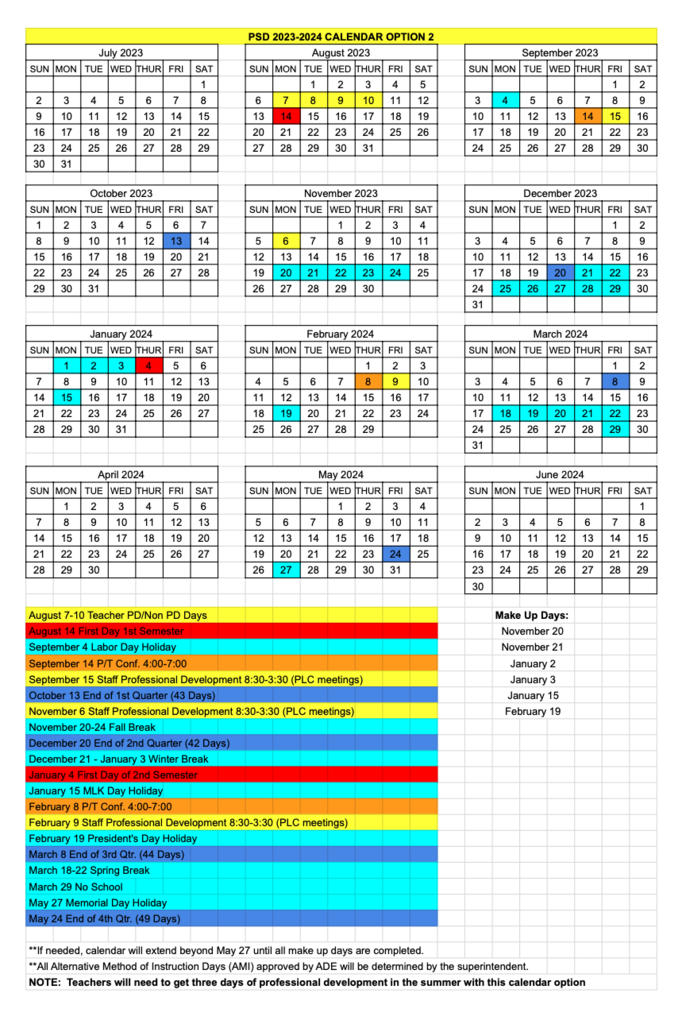 STEM Night and EAST Night Out at OGMS is TONIGHT! Please join us from 6-7 pm (we advise getting here about ten minutes before start time to be able to fully enjoy all of the stations) as we celebrate all things science, technology, engineering, and math!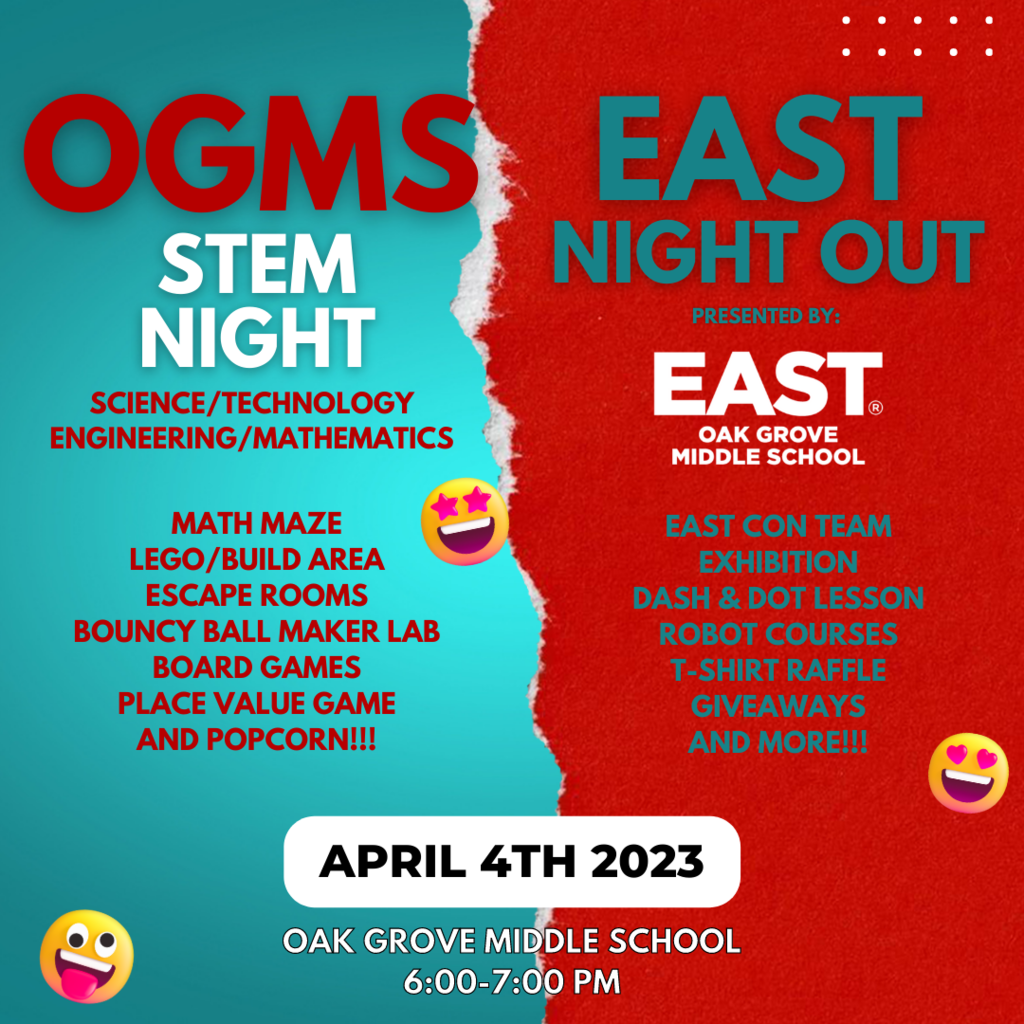 English Due to the weather forecast for this afternoon, PSD will be dismissing two hours early today. All car lines will start at 1:00 this afternoon. PSD will run our buses 2 hours early. We have bus routes that are in excess of an hour and a half in length and student safety is the priority. Español Debido al tiempo para esta tarde, PSD saldrá dos horas antes hoy. Sus estudiantes llegarán a casa 2 horas antes. Todas las líneas de carro comenzarán a la 1:00 de esta tarde. PSD hará funcionar nuestros autobuses 2 horas antes. Por favor haga arreglos para tener a alguien en casa. Tenemos rutas de autobús que superan la hora y media de duración y la seguridad de los estudiantes es la prioridad. Majol Kin wt weather ne jab emman ilo elkin raelep in ranin enij koman bwe en mokaj lok ruo awa. Em rijikuul eo nejim enij rool ruo awa mokajlok. Aolep lain in wa ko renaaj lijjino ilo 1:00alkin raelep. PSD enaaj kattori bus ko 2 awa mokajlok rainin. Elon bus in school ko renij herbal ilo jimetaan awa kojbarok eo an ajiri eo nejim ej men eo imaantata.
Join us this coming Tuesday, April 4, from 6-7 pm, for our annual family STEM Night and EAST night out at OGMS! We'll be celebrating all things math and science with games, math mazes, popcorn, engineering challenges and escape rooms! Our EAST conference team will have their conference projects on display, will be giving short robotic coding lessons, and more! We recommend getting here when the doors open for maximum time to enjoy the event! See you there!

OGMS would like to thank the PHS jazz band for coming out and performing for our students. We loved it and look forward to the entire band entertaining us in April! ONLY THE BEST AT OGMS!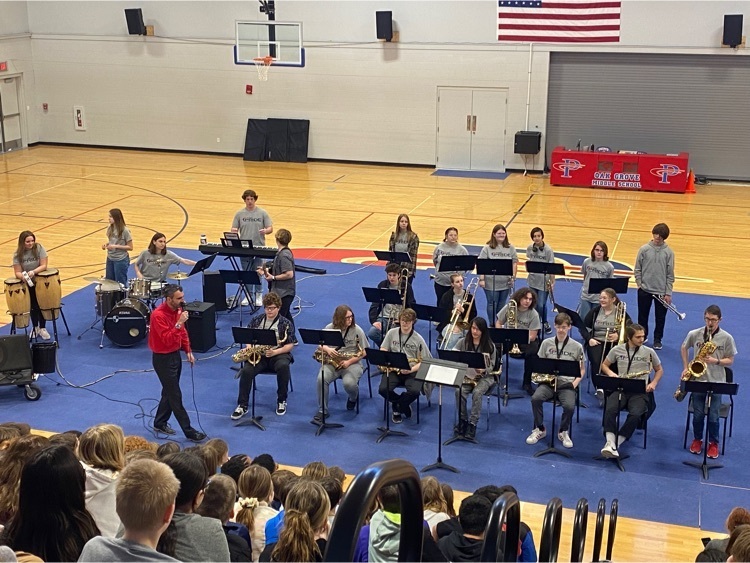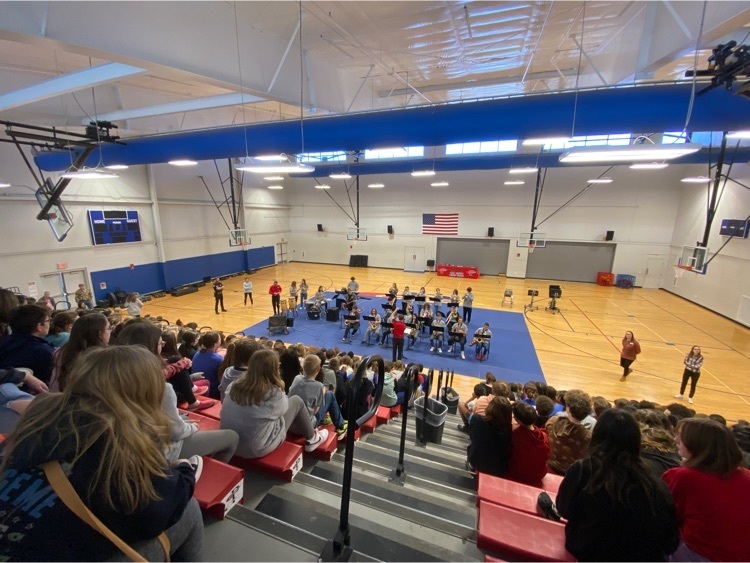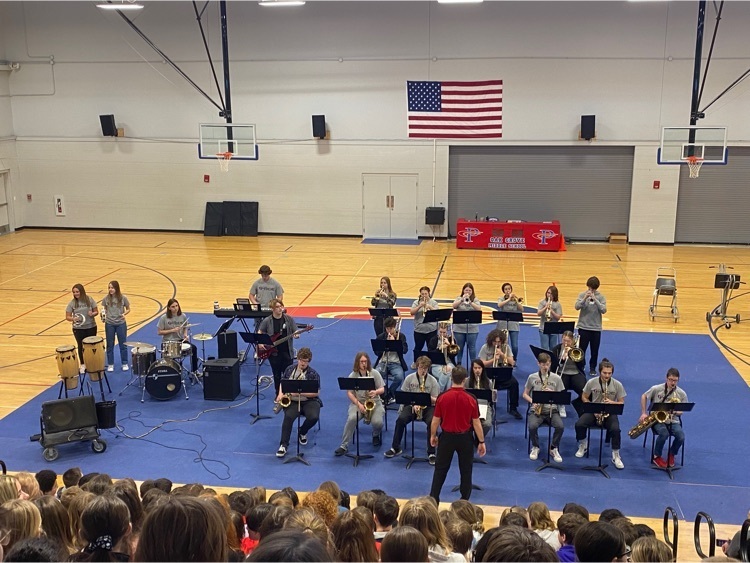 March Newsletters are coming home in backpacks today!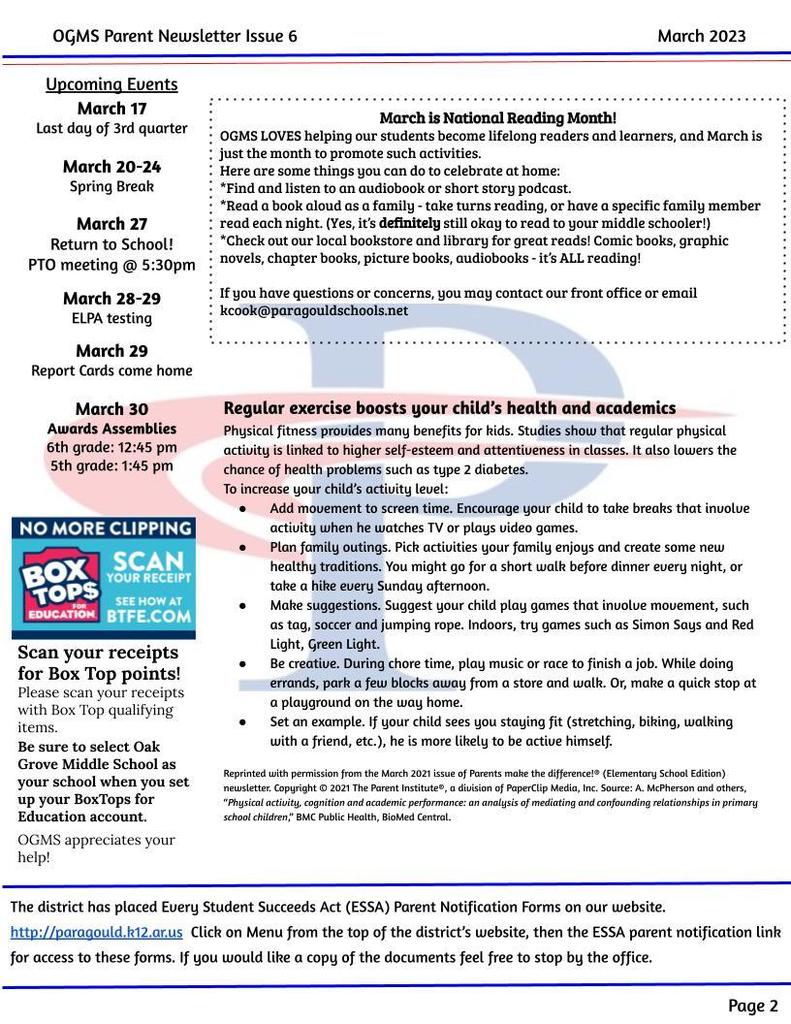 OGMS would like to invited families and carers to our 3rd quarter awards assemblies, Thursday, March 30. 3rd quarter music students will be performing a flutaphone concert at the beginning of each assembly. Hope to see you there!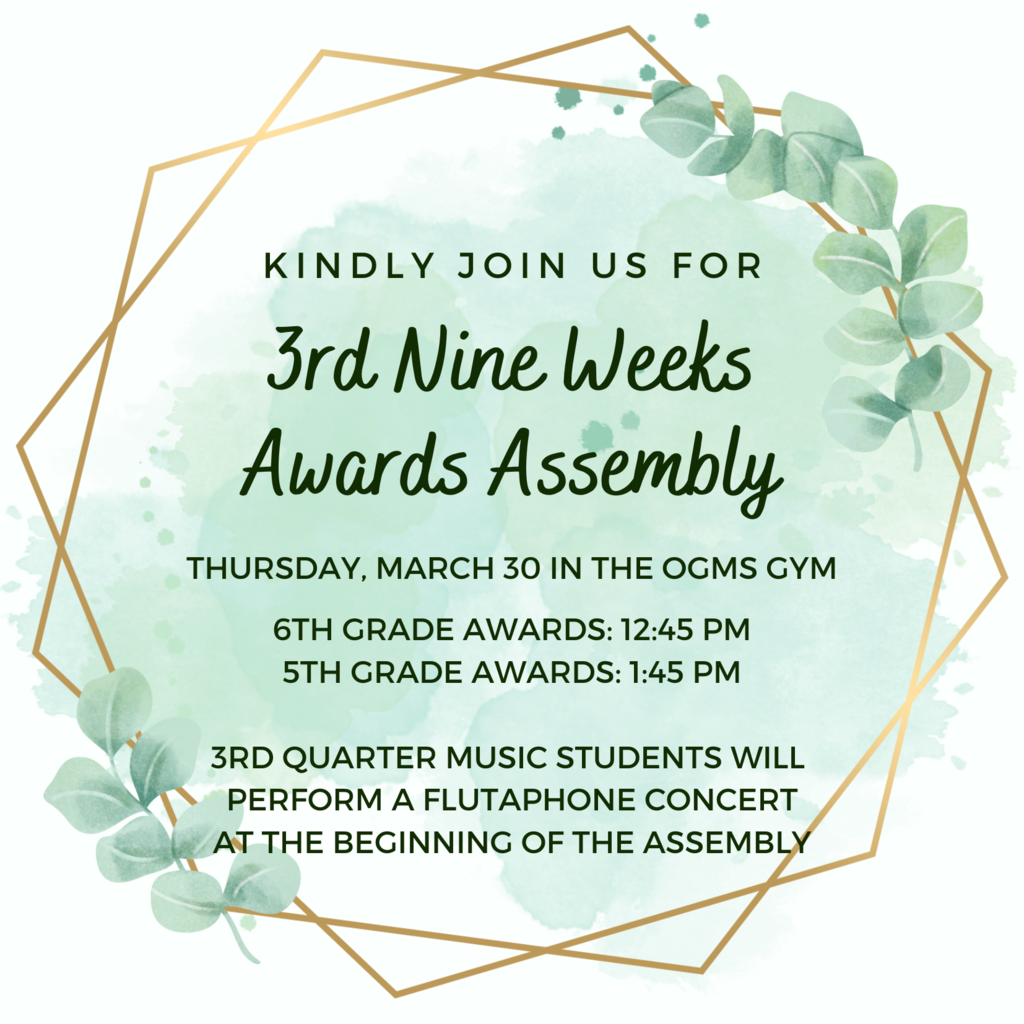 Join us for our March PTO meeting on Monday, March 27! We'll begin dance planning! Stay up to date with PTO announcements and other news by joining our Remind group! Here's the link:
https://www.remind.com/join/ogmspto22