Due to circumstances beyond our control, picture day for today has been cancelled. We will have to reschedule. So sorry for the inconvenience. As soon as we get it rescheduled, we will let you know. ONLY THE BEST AT OGMS!!
Reminder: OGMS picture day is TOMORROW (Thursday, 9/16). Information about picture day should have come home in backpacks last week. All students will have their photos made (these are for yearbook). Remember, NO MONEY needs to be sent tomorrow (our new company is doing things a bit differently). Please remind your kiddo NOT to wear green tomorrow! Contact your child's homeroom teacher or email
spoindexter@paragouldschools.net
with questions regarding pictures. We look forward to seeing smiling faces tomorrow!
Book fair is HERE and going strong! We are social distancing, wearing our masks, and we are SO excited to see kids excited about books! We invite you to check out the virtual book fair and shop online. From the website, you can set up an eWallet account for your child to use in our onsite book fair, or you can shop the full Scholastic books catalog and have items shipped right to your house! Onsite fair ends on Friday, online fair ends on Sunday, Sept. 20.
https://bookfairs.scholastic.com/bookfairs/cptoolkit/homepage.do?method=homepage&url=oakgrovemiddleschool2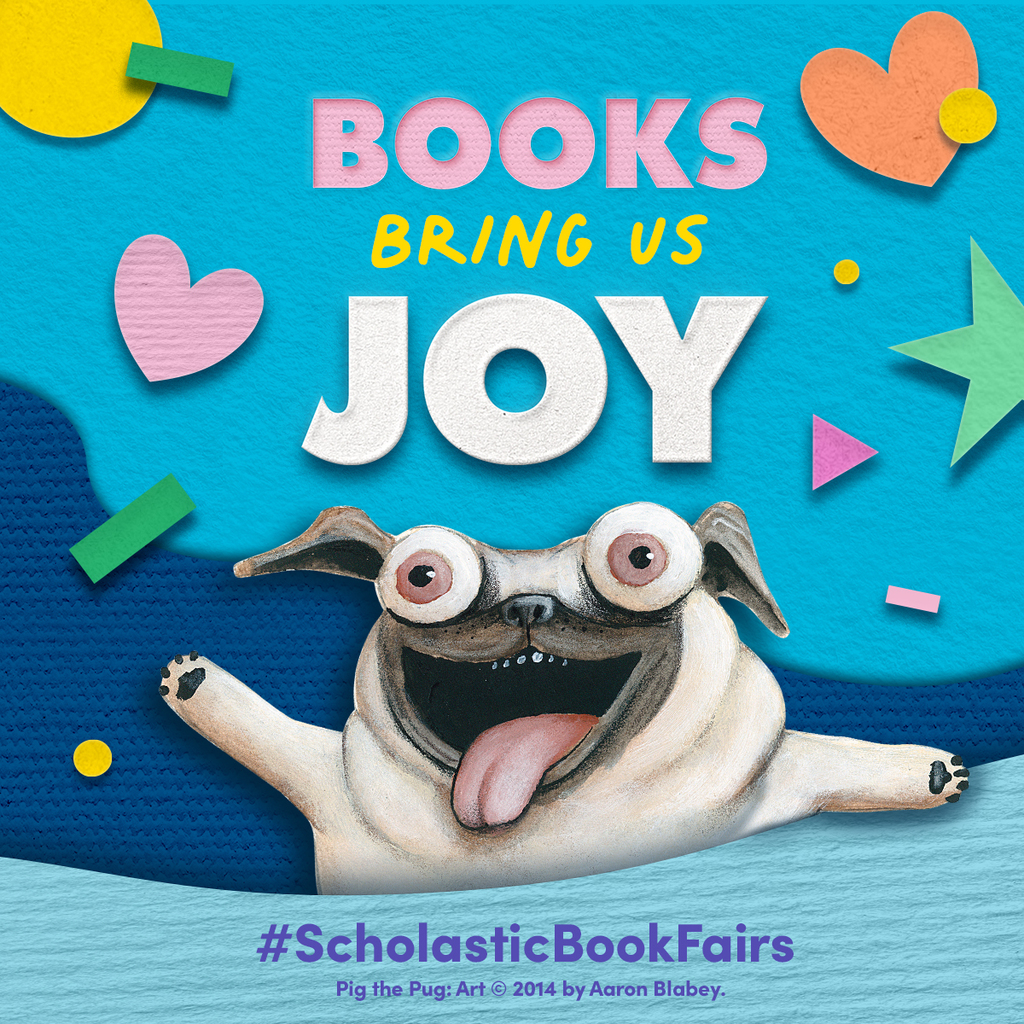 Attention OGMS parents: Interim report grades, along with ACT Aspire spring test results, and a letter, will be coming home with your child tomorrow. The letter will explain our Parent Teacher Conferences that will be taking place Thursday night. Be looking for their grades and this information tomorrow afternoon in your child's backpack. ONLY THE BEST AT OGMS!!

We are excited to announce the 14th Annual Dig for the Cure is Thursday, September 30th. We are honoring April Vanaman Biggs, Amber Vanaman, and Julie Lamb Milligan who have fought or are fighting breast cancer. Proceeds come from our online silent auction, t-shirt sales, and corporate sponsorships. All proceeds go to AMMC's Project Hope; NEA Baptist Hospital's Hope Circle; and St. Bernard's Imaging Center. To donate a silent auction item or become a sponsor, contact Jill Gill at (870) 335-8313 or
jgill@paragouldschools.net
To buy a t-shirt stop by any PSD school or Central Office and fill out a form - deadline is Monday, Sept. 13th so don't delay! Wear pink and come out to support your Lady Rams as they take on crosstown rivals, GCT Eagles! Games start at 5pm with 7th grade followed by Junior A then Senior A.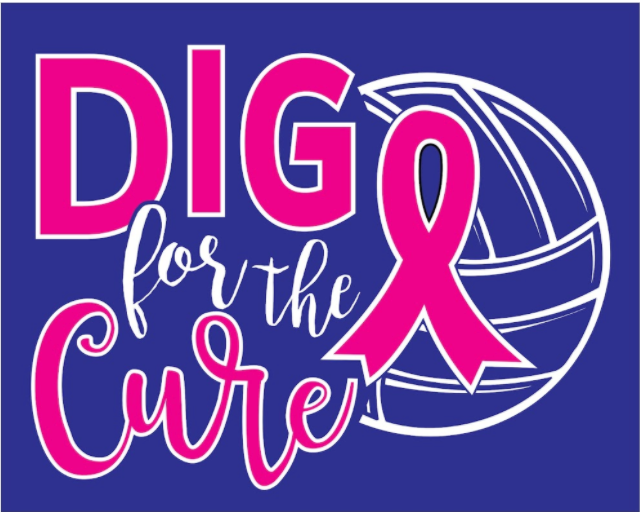 Due to conflicts, the OGMS parent meeting previously scheduled for 6:00 pm this evening will be rescheduled to a later date. We will send out an announcement once the date is set. We are sorry for any inconvenience this causes.
OGMS will be hosting our annual parent and Title I meeting, with a PTO meeting to follow, tomorrow evening at 6:00 pm in the OGMS gym. Masks are required if you attend in person. If you are unable to make it in person and would like to attend, email
kcook@paragouldschools.net
for a Zoom invite link. We look forward to SEEING you there!

The past couple of weeks we have introduced our new staff/faculty as and highlighted those who changed positions within the Paragould School District. Tonight we'd like to say welcome and congratulations to the following Rams: Alyx Cox (Paragould High School) Mackenzie Edison (Paragould Primary) Jenny Brown (Paragould High School) Emilee Higdon (Oak Grove Middle School)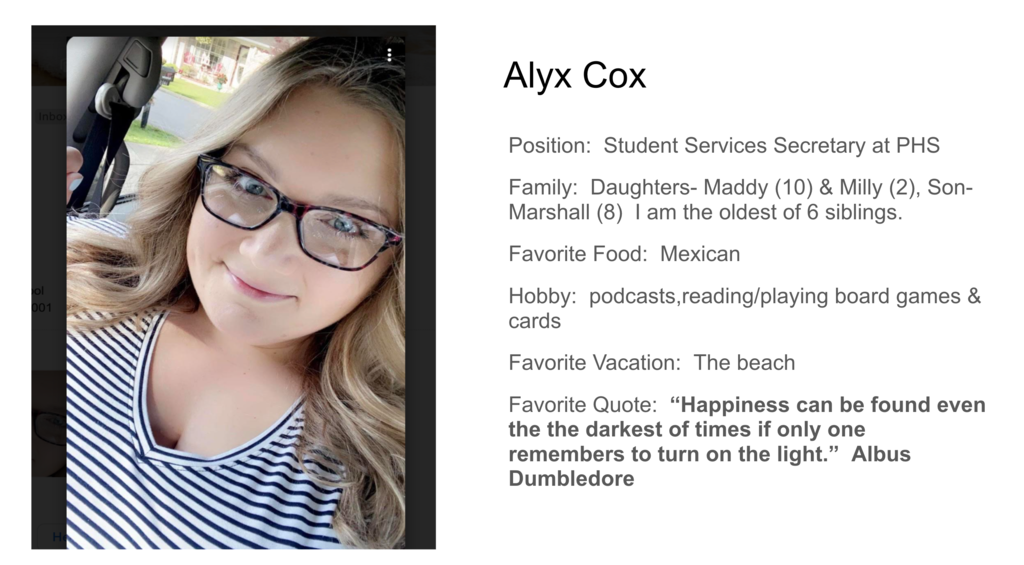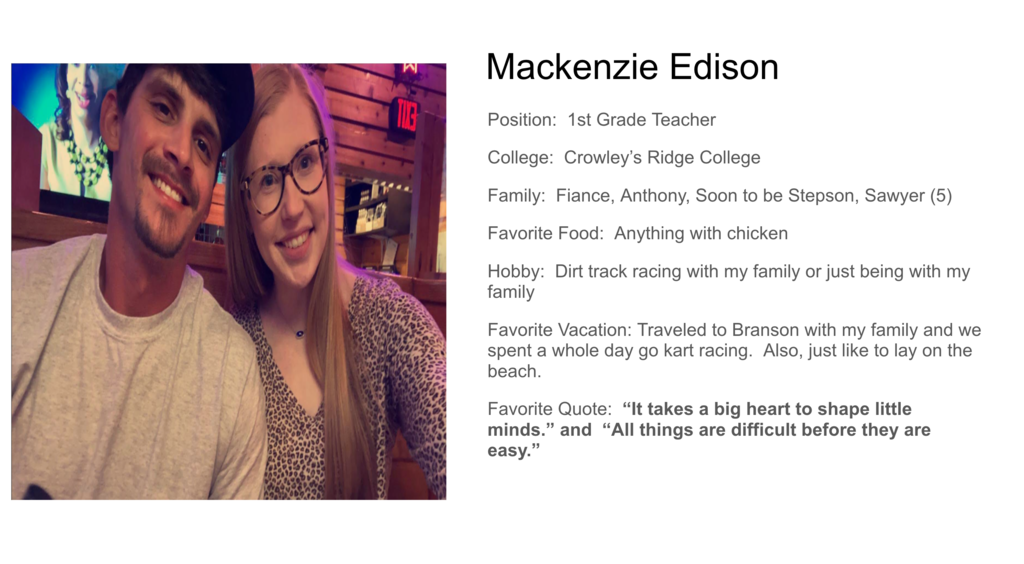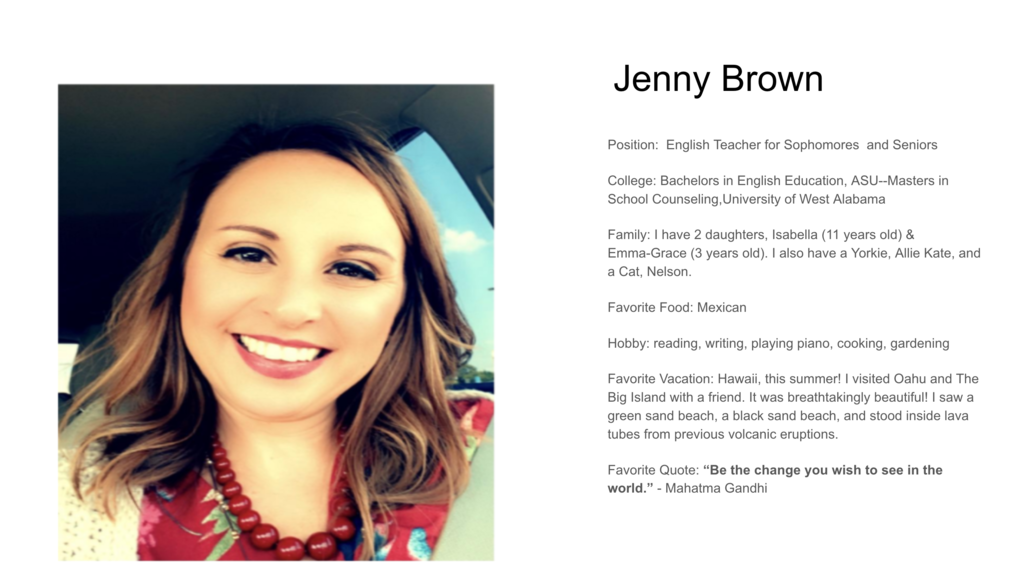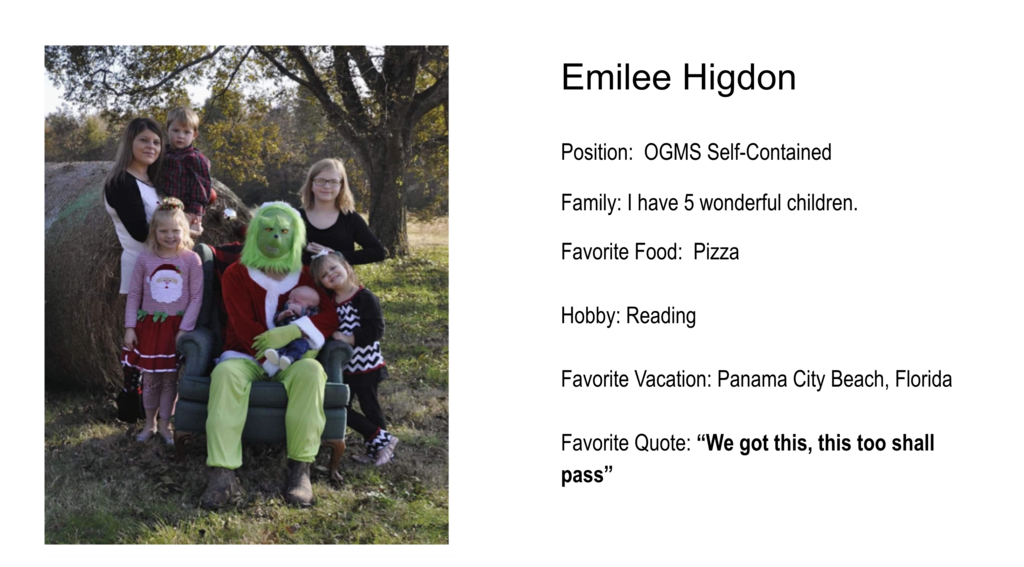 Reminder: In observance of the Labor Day holiday, there will be NO SCHOOL on Monday! Everyone enjoy your three day weekend, and be safe!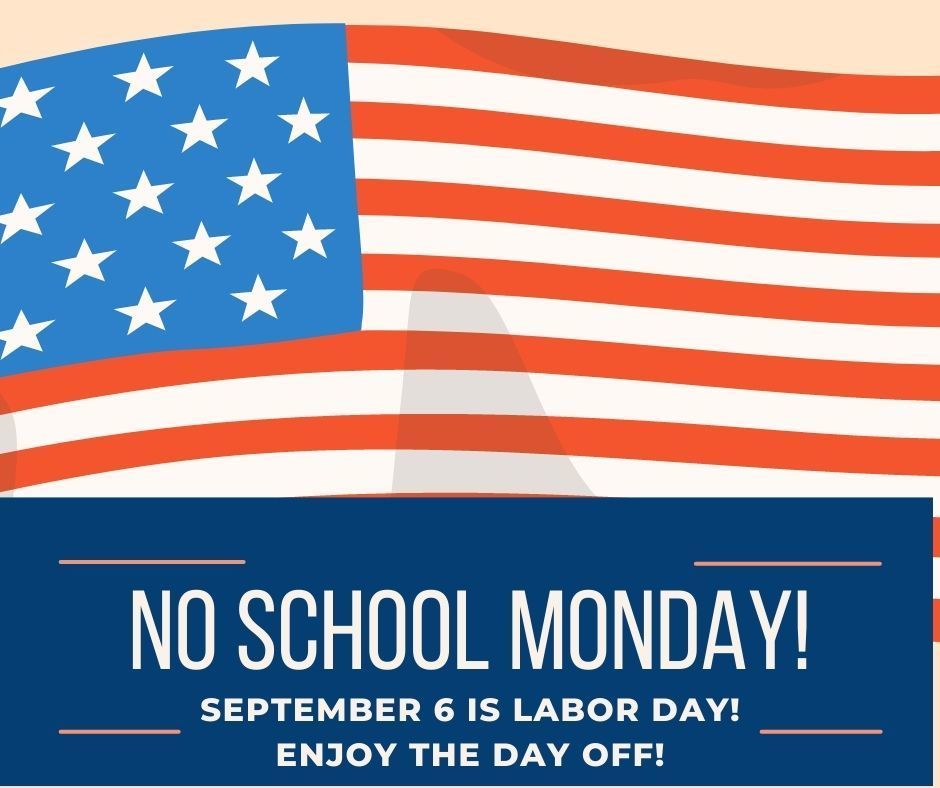 Paragould peewee volleyball practice starts August 31. OGMS students, especially 5th graders, can stay at school and then go to practice.

Attention volleyball players: Any female student in 3rd grade through 6th grade that wants to participate in volleyball needs to attend the parent meeting Thursday night at OGMS gym at 6:00. Remember to wear a mask while indoors! ONLY THE BEST AT OGMS!

Attention parents and students: Face coverings are required while indoors and when students can not socially distance. If they do not bring their own mask, one will be provided for them. If students do not feel good, please assess them at home before sending them to school. Let's all do our part to keep everyone healthy and well! ONLY THE BEST AT OGMS!

School starts back up tomorrow, August 16th. OGMS students may get dropped off in car line starting at 7:15. All students can eat a no cost breakfast and then head into the gym. 6th graders will get their schedules tomorrow morning upon arrival to the gym and then go to homeroom around 7:40. 5th graders will wait in the gym until their homeroom teacher walks them to their room. The tardy bell rings at 7:50 each day. LETS HAVE A GREAT YEAR! ONLY THE BEST AT OGMS!

OGMS students that will be car riders can have a parent or guardian come by OGMS office Thursday or Friday to pick up a car tag. This will help speed up the carline pickup during the first week of school. School starts Monday, August 16th. ONLY THE BEST AT OGMS!
Today is the OGMS Open House! Just a few things as a reminder: *Open House is for incoming 5th graders and new 6th graders to the district. *Masks are highly encouraged. *Only two family members per student. *Please refer to the photo for your scheduled time. *Students will receive schedules and be able to find their classrooms. *Please hold school supplies until the first day of school. We can't wait to see our new kiddos tonight!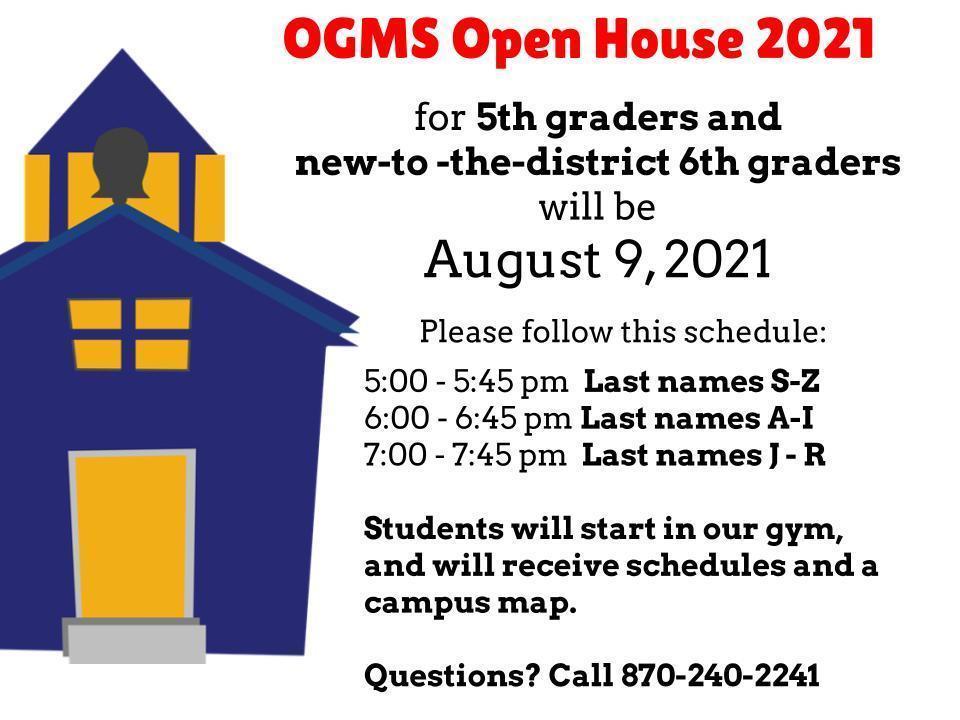 Attention OGMS families: It's that time of the year again! Our 2021 Open House is scheduled for Monday, August 9, 2021. Open house will be a bit different this year; we are hosting for incoming 5th graders and new 6th graders to the district ONLY. Open House Schedule Please refer to this schedule for your arrival times on August 9th: 5:00 - 5:45 pm, 5th grade or new 6th grade students to the district with last names beginning in S-Z 6:00 - 6:45 pm, 5th grade or new 6th grade students to the district with last names beginning in A-I 7:00 - 7:45 pm, 5th grade or new 6th grade students to the district with last names beginning in J-R Please refer to these guidelines when attending the August 9th open house: Only two family members per student. Please stay in your vehicle until your scheduled time. Please no school supplies during open house; these can be brought on the first day of school, Aug. 16. Start in the gym (look for signs). Students will get schedules and a map, and then go look for their classroom locations; staff will be in the building to direct students to classrooms and answer general questions. Masks are not required but highly encouraged. Returning 6th grade students and any student who is unable to attend open house will receive schedules on August 16, 2021 (first day of school). Keep an eye on our website for a virtual open house tour, teacher contact information, and other important tidbits as our first day of school approaches. If you have questions, please feel free to call our front office at 870-240-2241.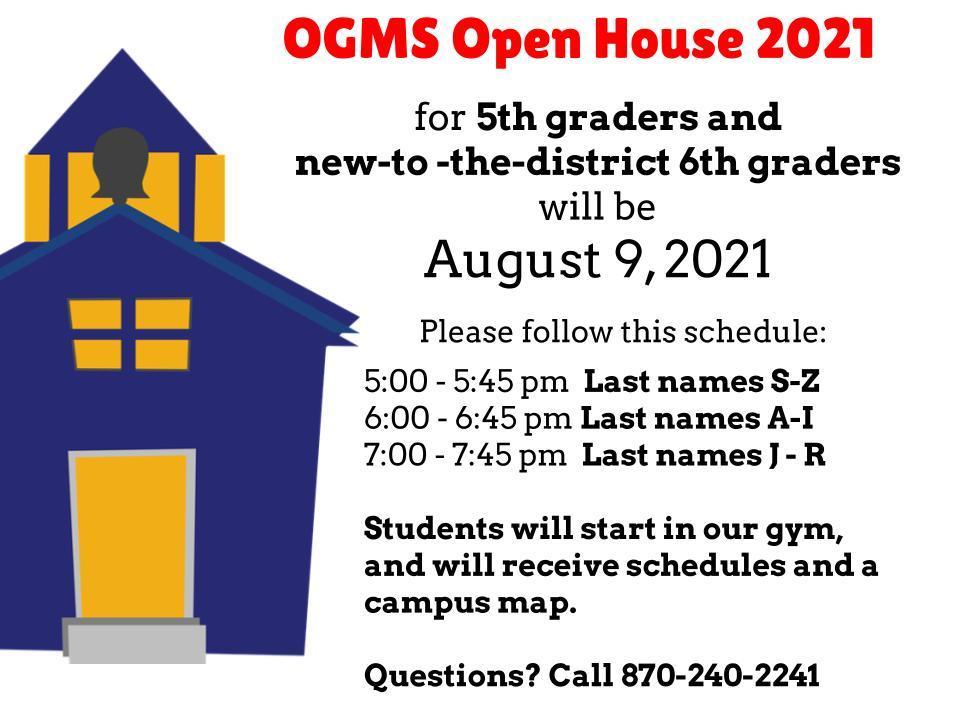 Attention Rams and future Rams: school supply lists for grades K-6 and Ram Academy are available on our website under the For Parents button. School begins on Monday, August 16. #psdrams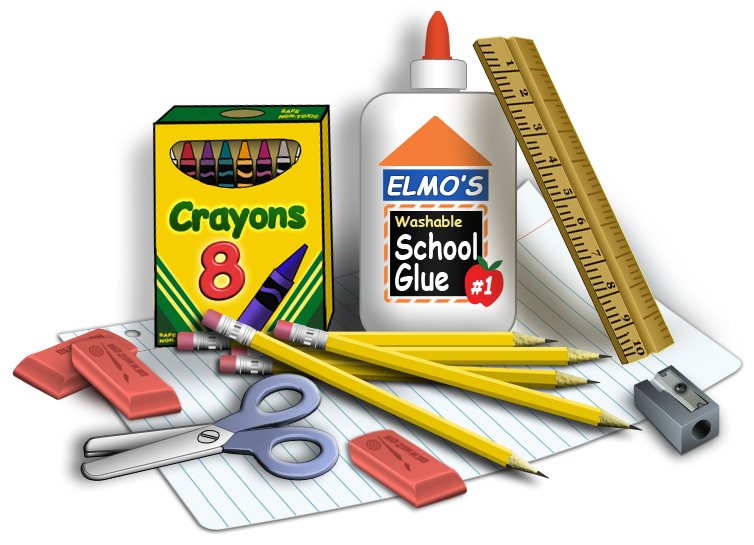 OAK GROVE MIDDLE SCHOOL SUMMER CAMP! Our third week of summer camp begins tomorrow and will go from 8-12 Monday through Thursday. If you signed up to ride a bus, please be at bus stop by 7. Have a great week! Only the best at OGMS!

This year's Stuff the Bus event is August 7 at a business near your local Walmart. Look for the big yellow bus to drop off school supplies for our students!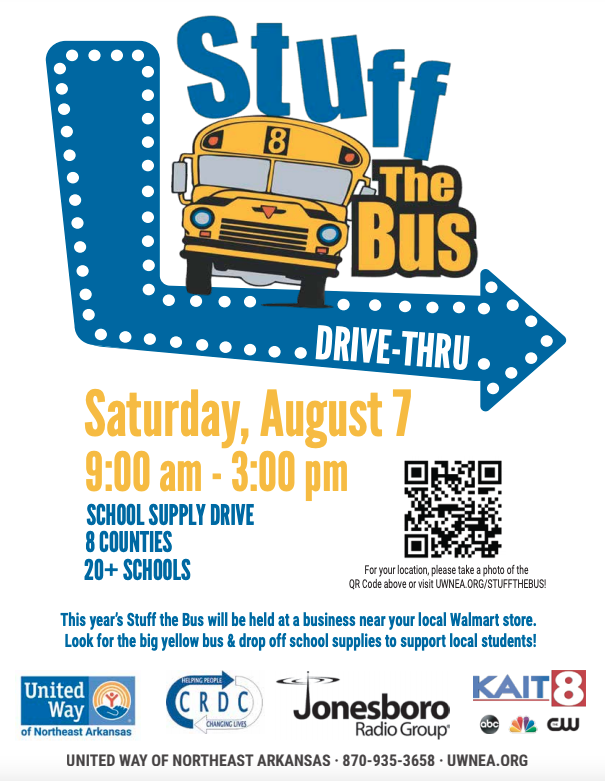 Hello, Rams! Please see the attached flyer and registration form for boys' hoop camp for rising 1st through 6th graders, happening next week, July 13-15.