OGMS would like to thank the PHS jazz band for coming out and performing for our students. We loved it and look forward to the entire band entertaining us in April! ONLY THE BEST AT OGMS!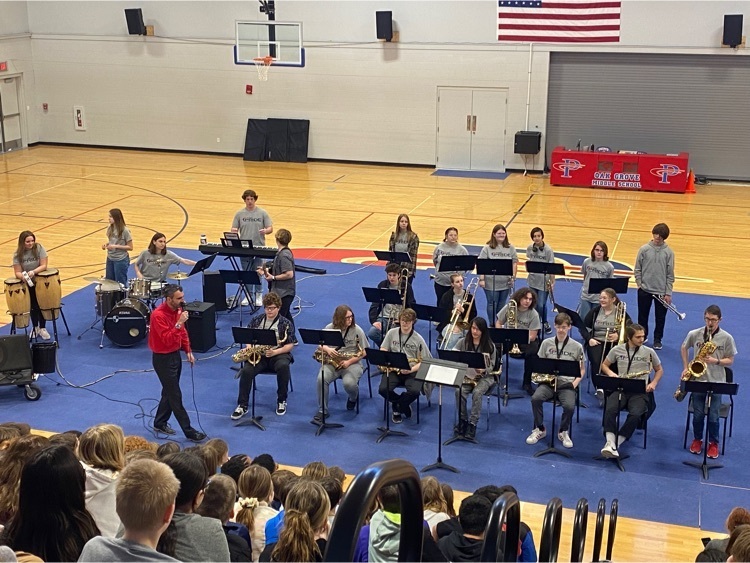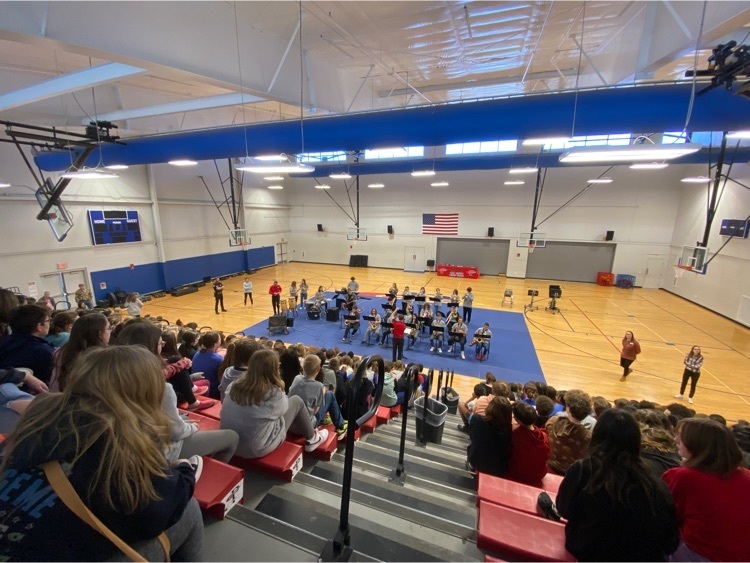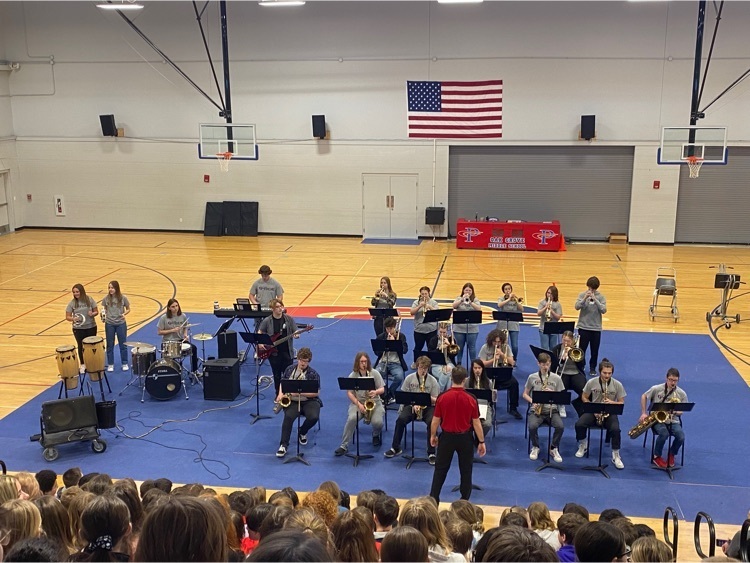 March Newsletters are coming home in backpacks today!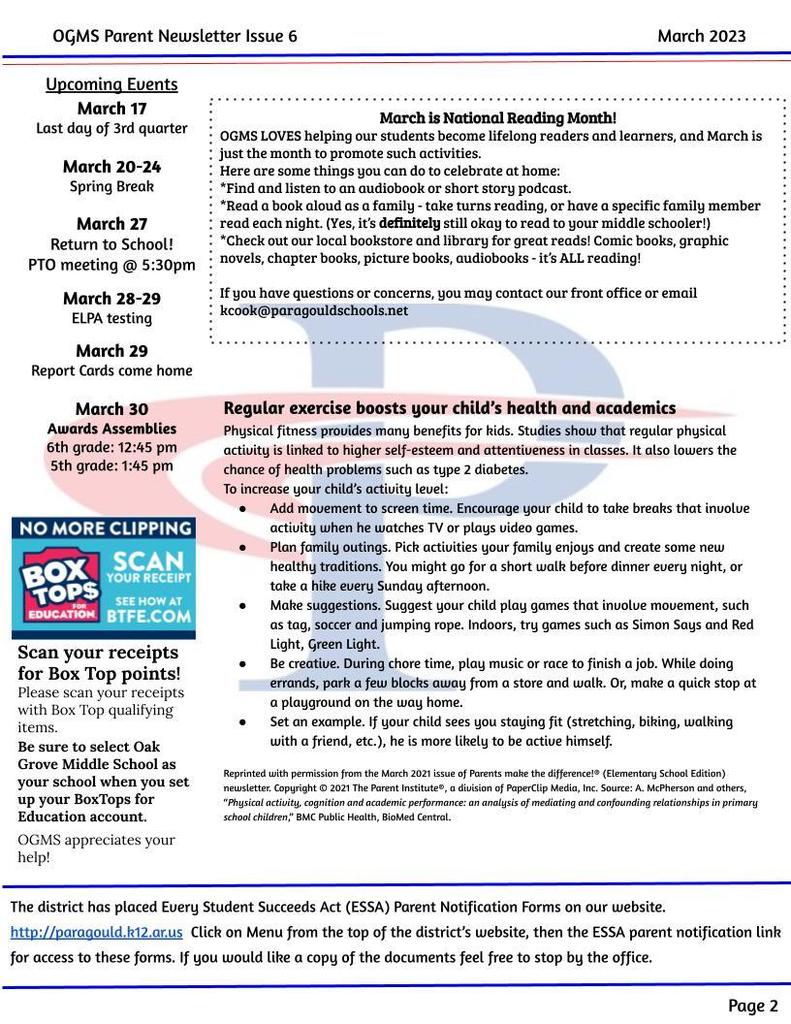 OGMS would like to invited families and carers to our 3rd quarter awards assemblies, Thursday, March 30. 3rd quarter music students will be performing a flutaphone concert at the beginning of each assembly. Hope to see you there!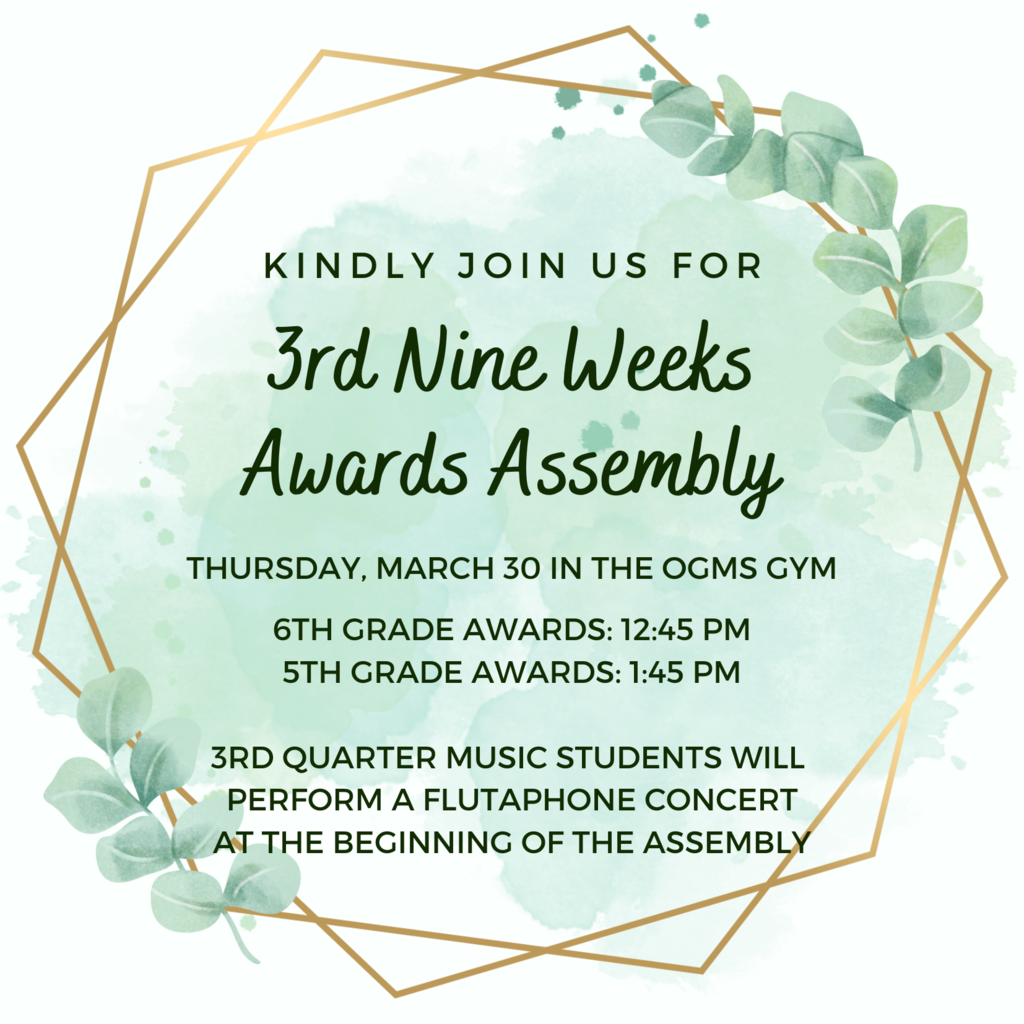 Join us for our March PTO meeting on Monday, March 27! We'll begin dance planning! Stay up to date with PTO announcements and other news by joining our Remind group! Here's the link:
https://www.remind.com/join/ogmspto22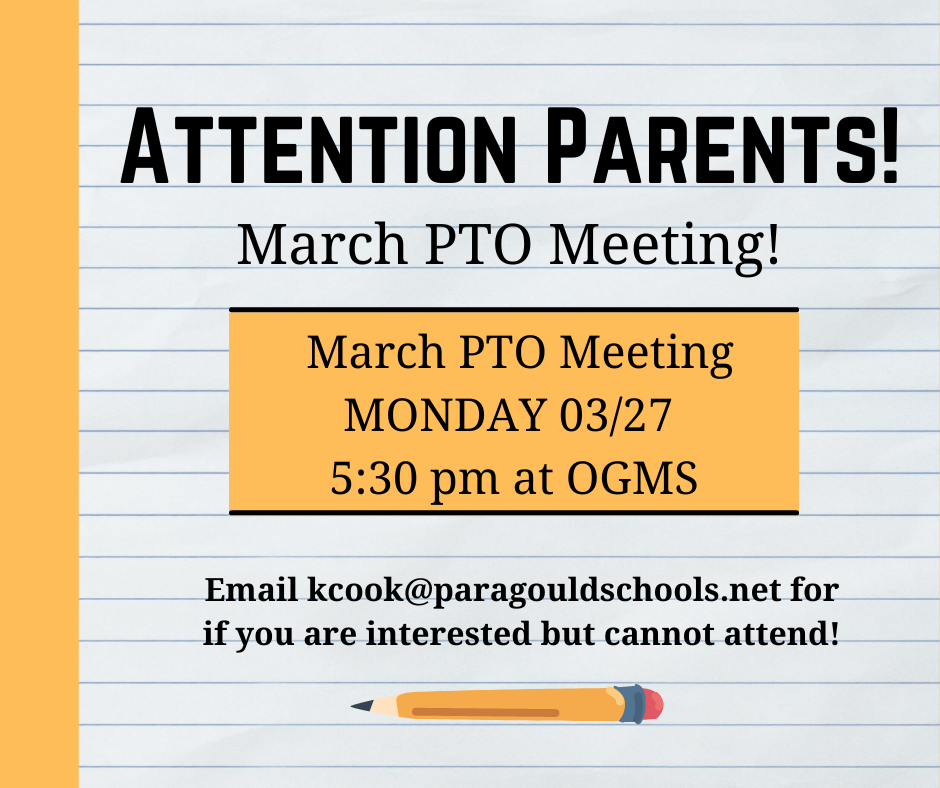 ATTENTION 6TH GRADE GIRLS! 7th grade volleyball tryouts are being held on Monday April 3rd from 3:45-5:30 and Tuesday April 4th from 3:45-4:30. Any 6th grade girl wanting to try out must get a volleyball info sign-off form, and they must have a current physical (both forms are in the office). Coach Nailing is also holding after school practices from 3:45-5:00 on Tuesdays and Thursdays until the tryout for anyone that wants to attend to get practice before the tryout date. Pick up forms from our front office!

The PHS Key Club is hosting a blood drive this Friday, March 10th from 8:00-2:30 p.m. on the high school campus. This drive is a competition between PHS and GCT to see which school can collect more pints at their spring drive. You save 3 lives with each pint you donate, and as an added bonus, you will receive a $10 Visa e-gift card and a Paragould Red Cross t-shirt. Check out the flyer to sign up!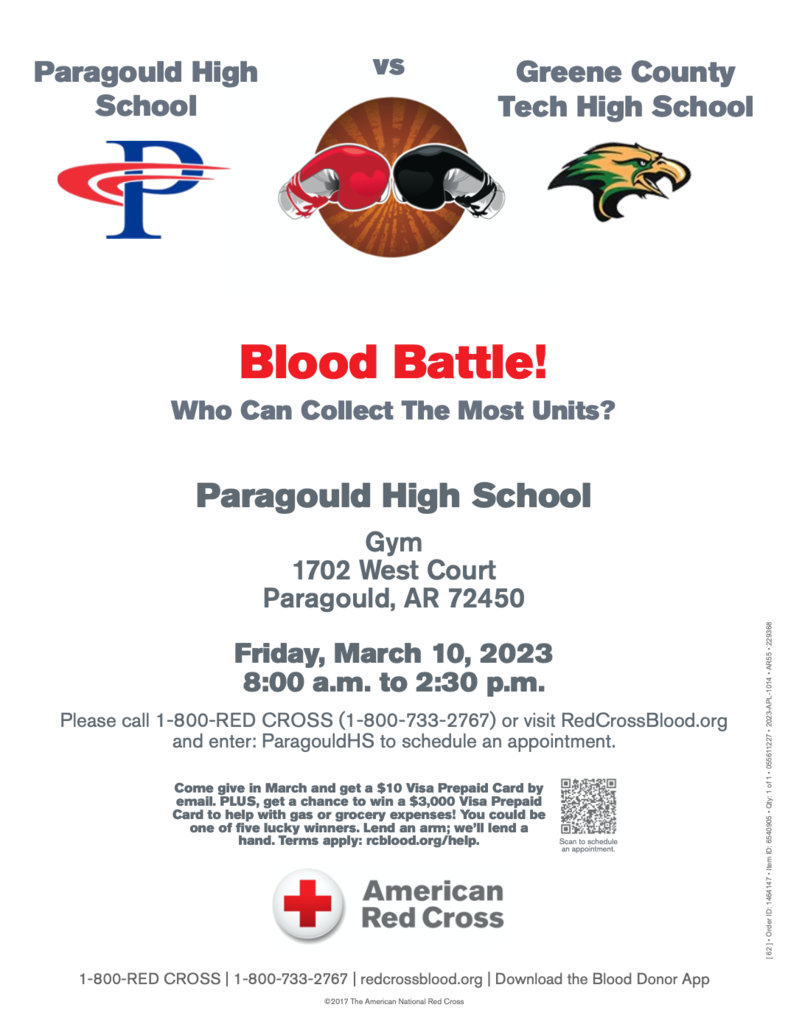 Help us spread the word - the Paragould Primary will have Pre-K and Kindergarten registration events next week! We want your littles to join our Ram family! Wednesday, 3/8/23 (9:00am - 2:00pm) Thursday, 3/9/23 (4:00pm - 7:00pm). Check out the flyers on our websites for more info and how to register if you can't attend the 8th or 9th. This is for children turning 4 by 8/1/23 (PK) and 5 by 8/1/23 (K). We can't wait to meet our newest Rams!

Upcoming Family Programs, Tours, and Activities at Lake Frierson State Park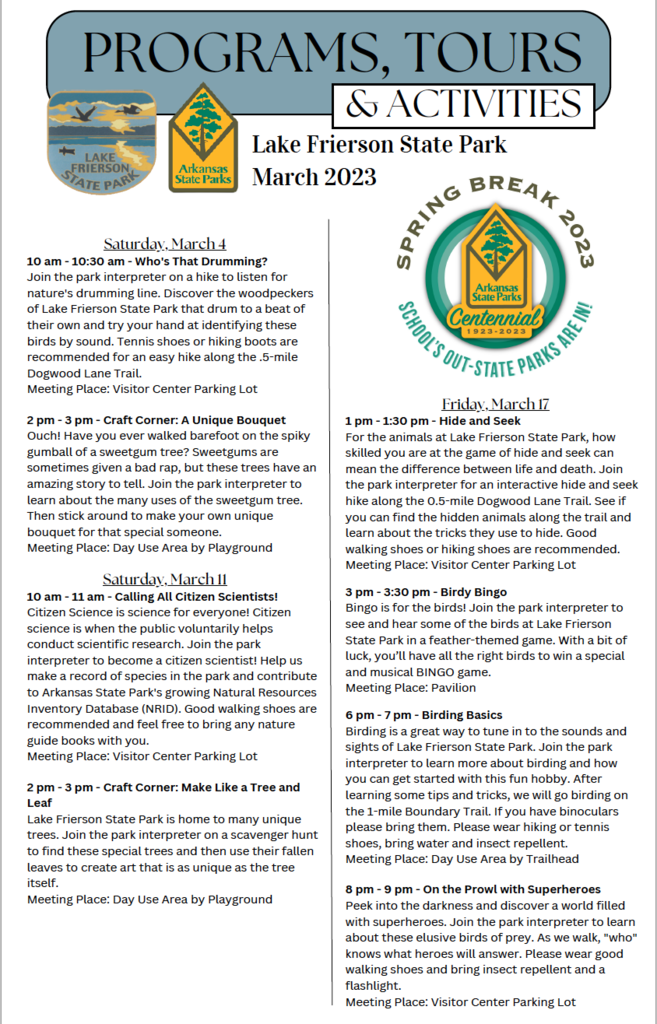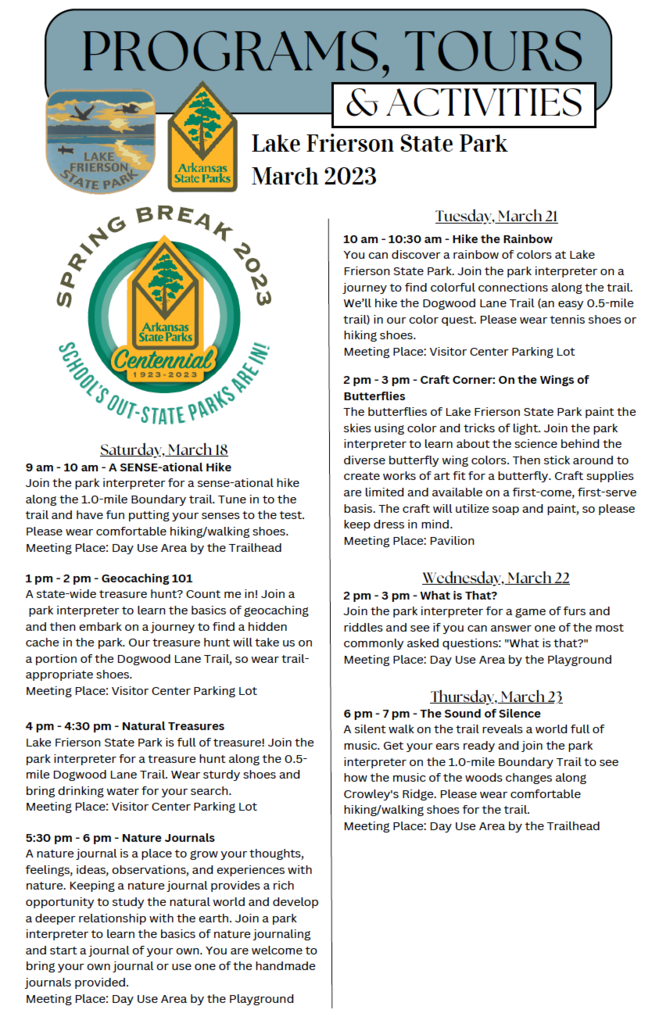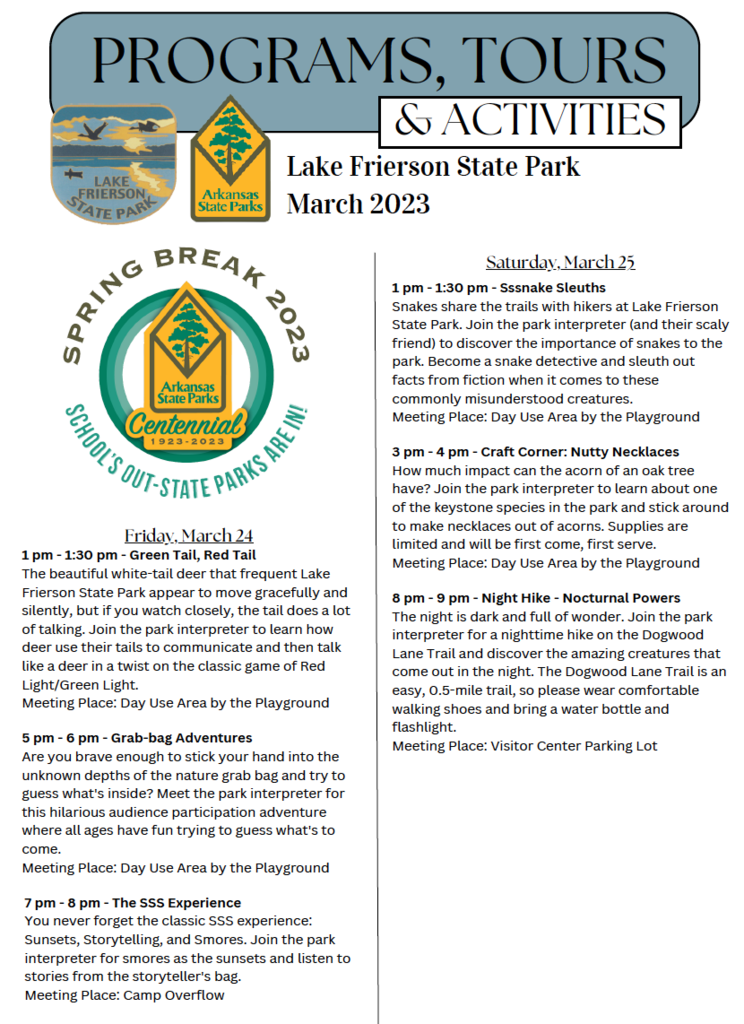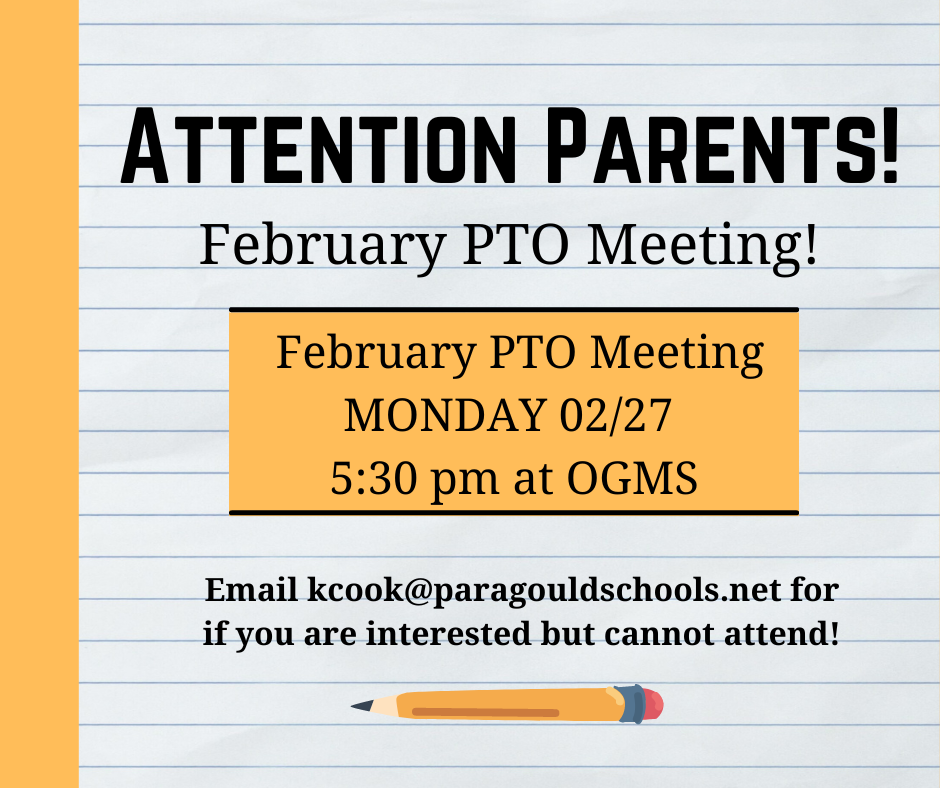 Congratulations to the Paragould School District's booth for placing FIRST in the Paragould Chamber of Commerce's Showcase event last week. It was a great day to showcase what makes the PSD so special! Read the News story on our website to learn more!
We've had a GREAT Friday at OGMS!! Just a reminder: there will be NO SCHOOL on Monday! We will see everyone on Tuesday!
OGMS Family Game Night is tonight from 6-7! We hope to see our OGMS families here!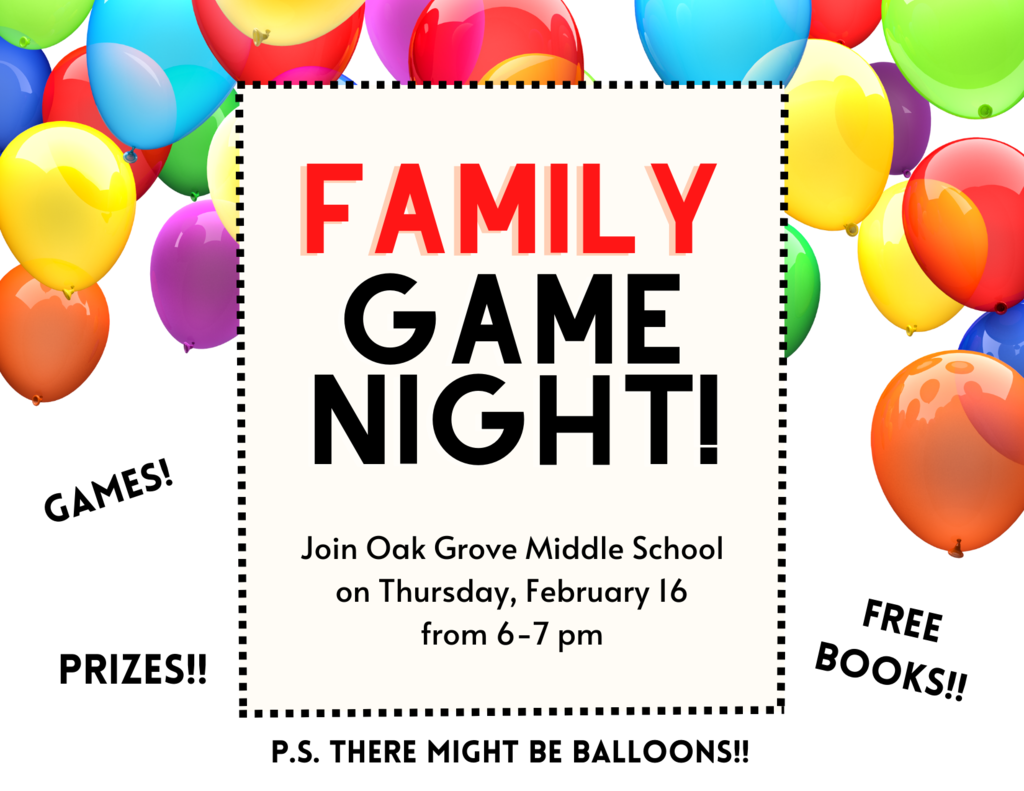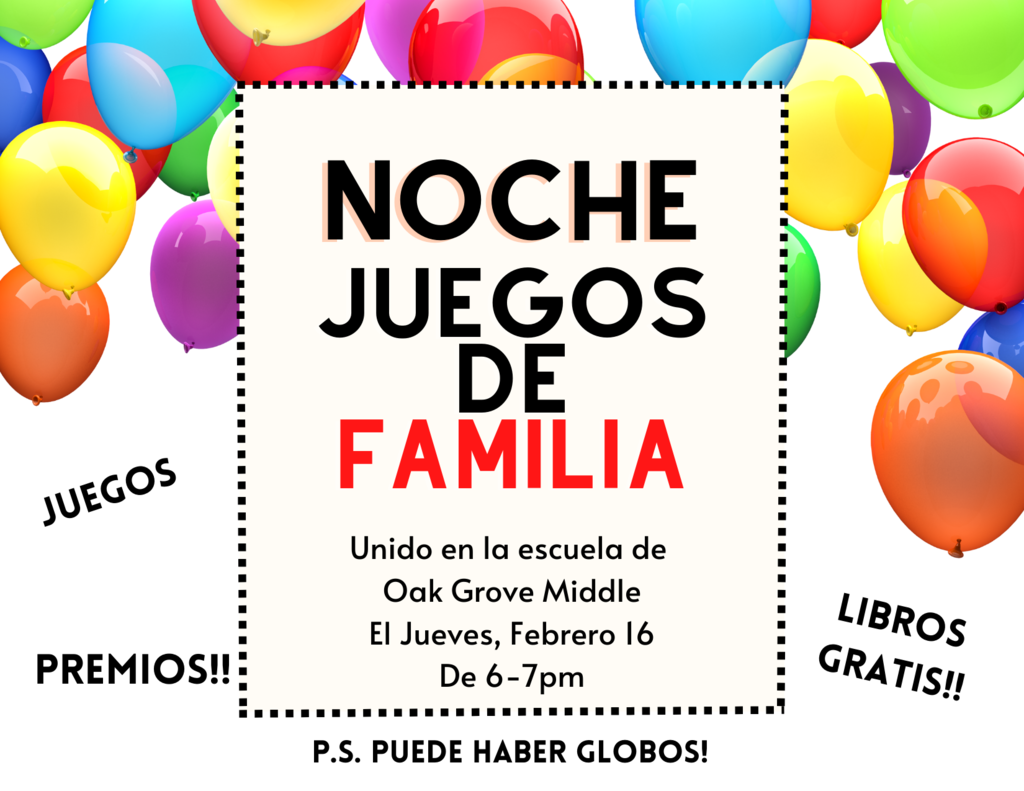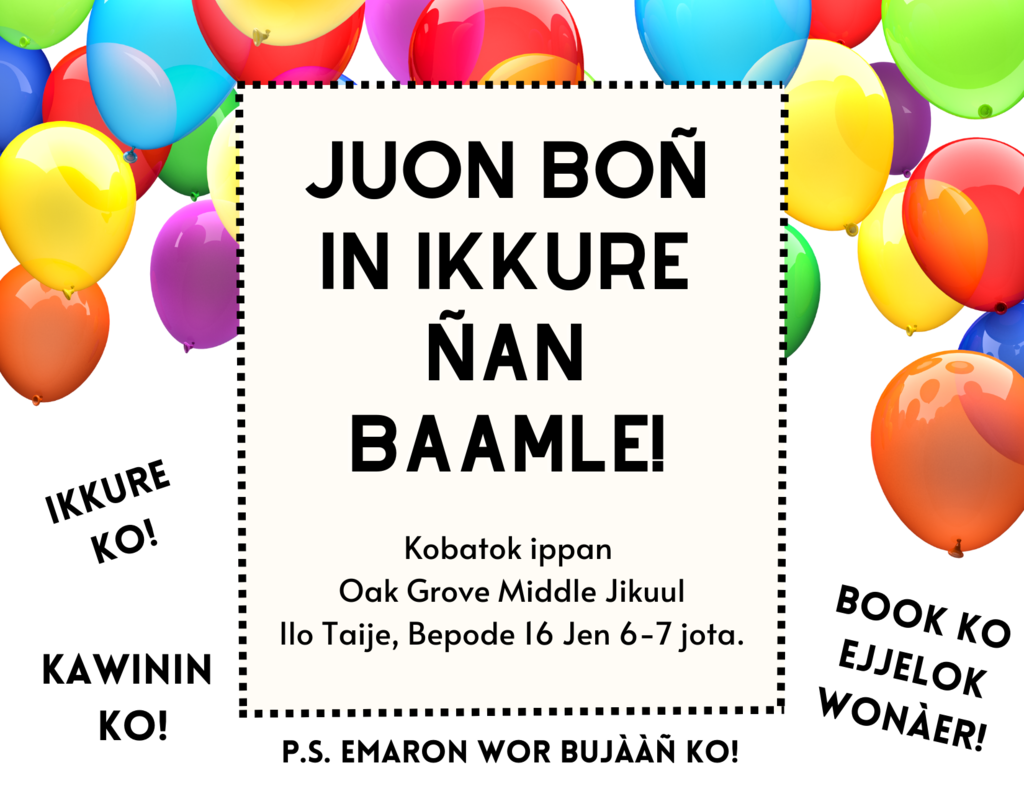 Valentines Day Deliveries We'd like to remind parents that Paragould School District does not allow Valentine's Day deliveries of any kind. Therefore, OGMS will not be able to accept any deliveries of flowers, balloons, etc. to the school for Valentine's Day.
Family Game Night! Join Oak Grove Middle School on Thursday, February 16 from 6-7 pm! Noche Juegos de Familia Unido en la escuela de Oak Grove Middle el Jueves, Febrero 16 de 6-7pm Juon Boñ in ikkure ñan Baamle! Kobatok ippan Oak Grove Middle Jikuul Ilo Taije, Bepode 16 Jen 6-7 jota.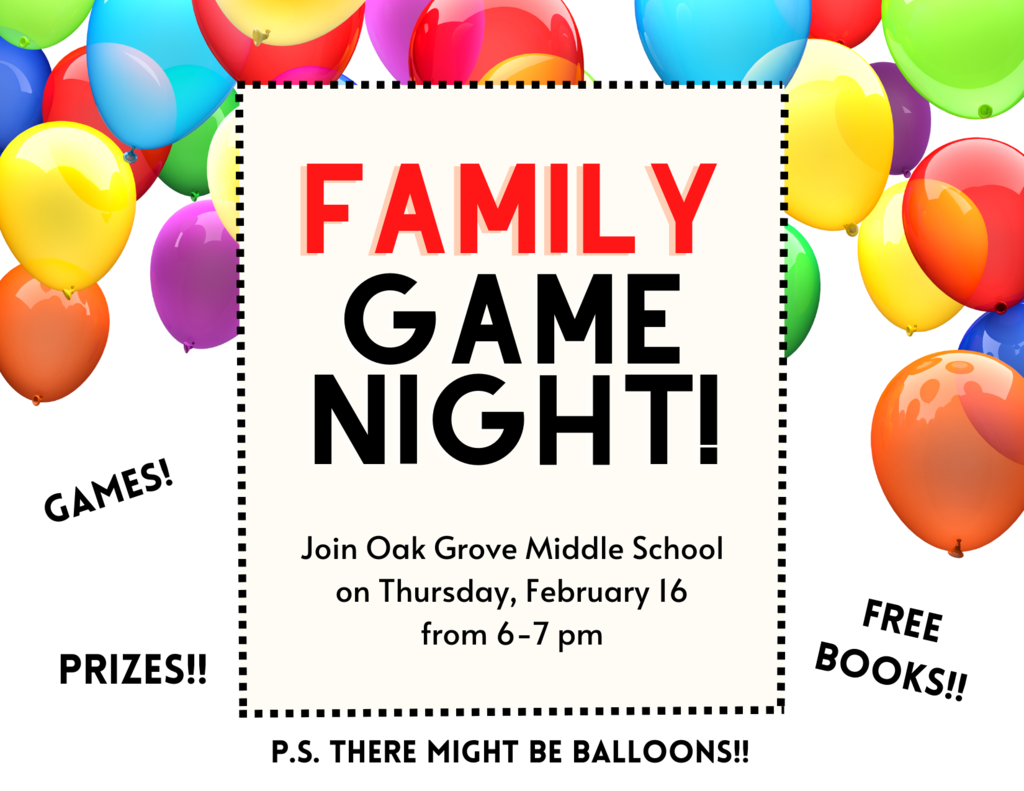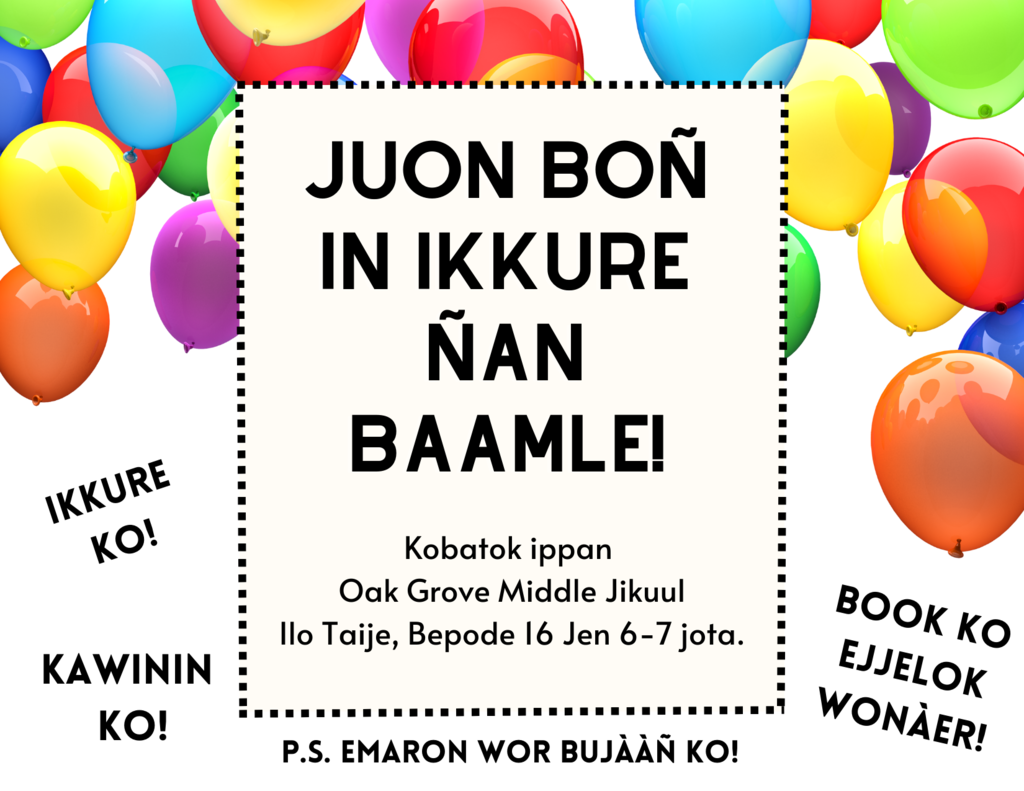 Don't forget to order a Valentine's treat bag for your OGMS kiddo! Order forms went home on Monday (the papers were pink). Deadline to order treat bags is this Friday, February 10. Treat bags will be delivered to kiddos in the afternoon of Valentine's Day.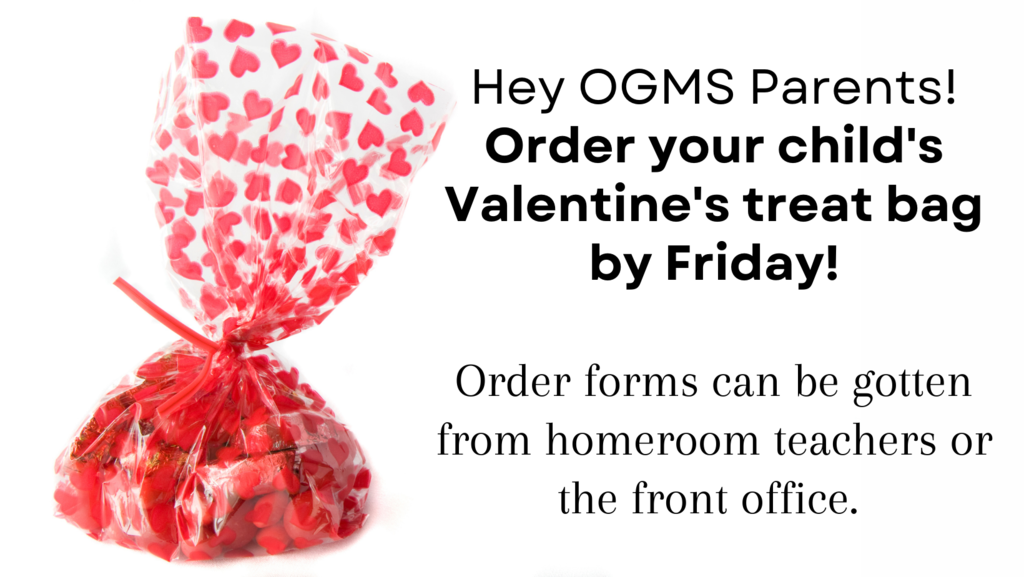 Join us for parent/teacher conferences tomorrow evening from 4-7 pm. Visit with your child's teachers and shop the book fair! If you have any specific questions, please be in contact with your child's teachers. See you there!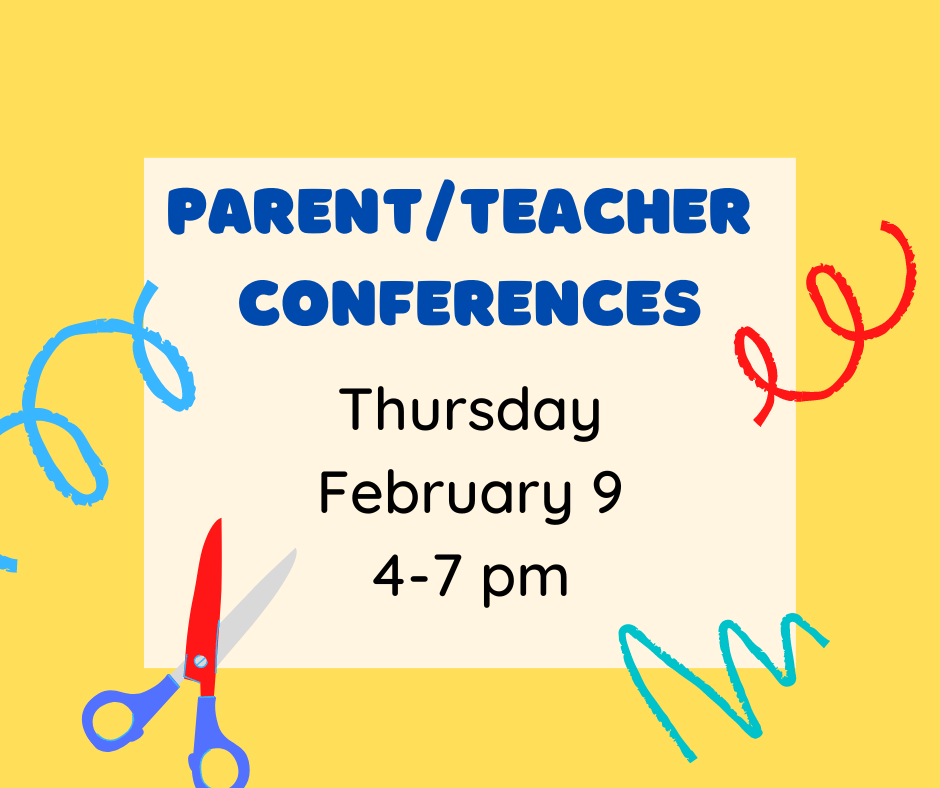 English: School is closed Friday, February 3 due to dangerous road conditions. Students should complete Day 4 of their AMI packet. Español: La escuela esta cerrada el viernes 3 de febrero debido a las peligrosas condiciones de la carreteras. Los estudiantes deben completar el Dia 4 de su paquete AMI. Majol: Enaaj ejjelok jikuul ilo Bolaide, Bebode 3 itok wot jen an kauwotata ial kane. Rijikuul ro rej aikuj kadedeiklok Raan 4 ilo AMI packet ko aer.

School is closed Thursday, February 2 due to inclement weather. Students should complete Day 3 of their AMI packet. Español: La escuela está cerrada Jueves, 2 de febrero debido a las inclemencias del tiempo. Los estudiantes deben que completar el dia 3 de su paquete AMI. Majol: Rainin enaj kilok mwon jikuul kani woj. RiJikuul ro, jouj im kadredrelak Raan 3 ilo AMI Packet kani rekar lewaj.
OGMS RESCHEDULING FAMILY NIGHT: Due to our weather this week, the OGMS Family Fun Night scheduled for this Thursday, Feb. 2 has been rescheduled. Our new and final date will be Thursday, February 16 from 6-7 pm. We hope everyone stays safe and warm!