The NEA area substitute teacher training is scheduled for Wednesday, June 8 from 9-12 at the ESS South Central Office. This training is for anyone interested in becoming a substitute teacher for the 2022-2023 school year. For additional information, or to apply online, please visit ess.com.
Join us for our End of Year Awards tomorrow, May 24 in our gymnasium at the following times: 6th grade: 9:00 am 5th grade: 1:00 pm Assemblies should take no more than an hour!
OGMS Field Day is TOMORROW! This is a BAM event (your kiddos will know if they are eligible or not). Please send your kiddo with a change of clothes, extra shoes (if possible), a towel, deodorant, and sunscreen. We also suggest making sure they have a hat or sunglasses, as each grade level will be outside for a couple of hours. Finally, we suggest each student bring a plastic sack (like one you get your groceries in at the store) to put dirty clothes in, as their clothes and towel will be WET and dirty by the end of field day.

Registration for the NO COST Academic/Athletic Camps for current students in grades K-6 is open NOW through Friday, May 20th. Your child is invited to attend Paragould K-6 Summer Academic/Athletic Camps. Our summer program is offered at NO COST to PSD students! Transportation will be provided for students if needed. Opportunities include both academic and athletic activities. Students will be given the opportunity to interact with district literacy and math computer adaptive technology programs. We will also offer one-on-one and small group instruction when necessary. Athletic programs offered to students include baseball, basketball, football, soccer, softball, volleyball, cheer, dance, and speed/agility. K-6 Athletic Program Coordinators and district coaches will facilitate athletic activities. Don't delay, registration ENDS on Friday, May 20th. If interested, please complete the registration process by clicking the registration link below. Click the link below to register for the 2022 Academic/Athletic Camp
https://docs.google.com/forms/d/e/1FAIpQLSfT8LIk4RXBm48vkrJR8FEE9UfjYW2XvgwhovOV7WOelcpWLQ/viewform?usp=sf_link
Click the link below for more information about the 2022 Academic/Athletic Camp
https://docs.google.com/document/d/1cw8SPF0G3Jn5SP8cUzNrLe8kM4cou0raJXHO96LeTlE/edit?usp=sharing
Hey parents! Don't forget, we have a parent volunteer meeting this evening at 5:30 pm in the OGMS parent center. If you plan on helping with the school dance on May 13, we hope to see you at the meeting tonight. The meeting should take no longer than about 30 minutes. We hope to see you!
We will be participating in the ACT Aspire testing next week beginning on Tuesday, May 3. Virtual students AND in-person students will need to be present and on campus for this testing. Please take a look at our parent letter (sent home this week) for more information.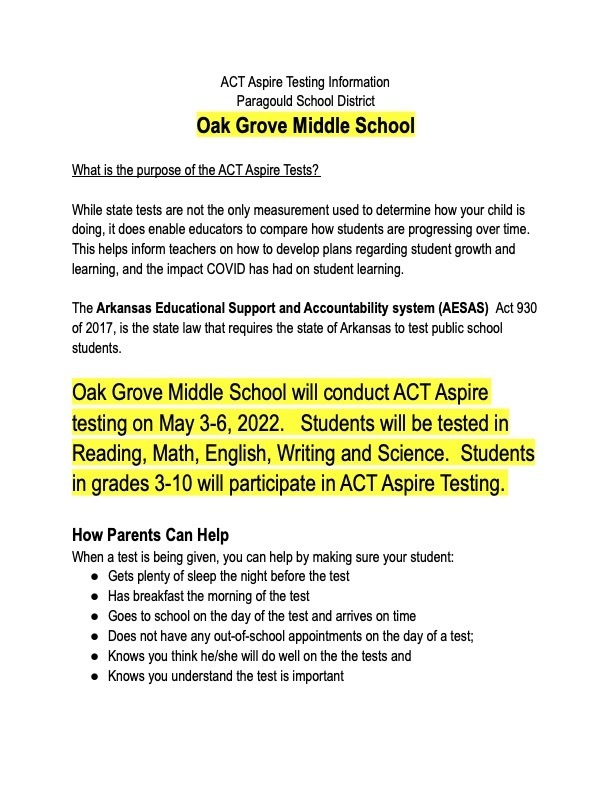 Please see the photo for official pageant times for Saturday, April 30th!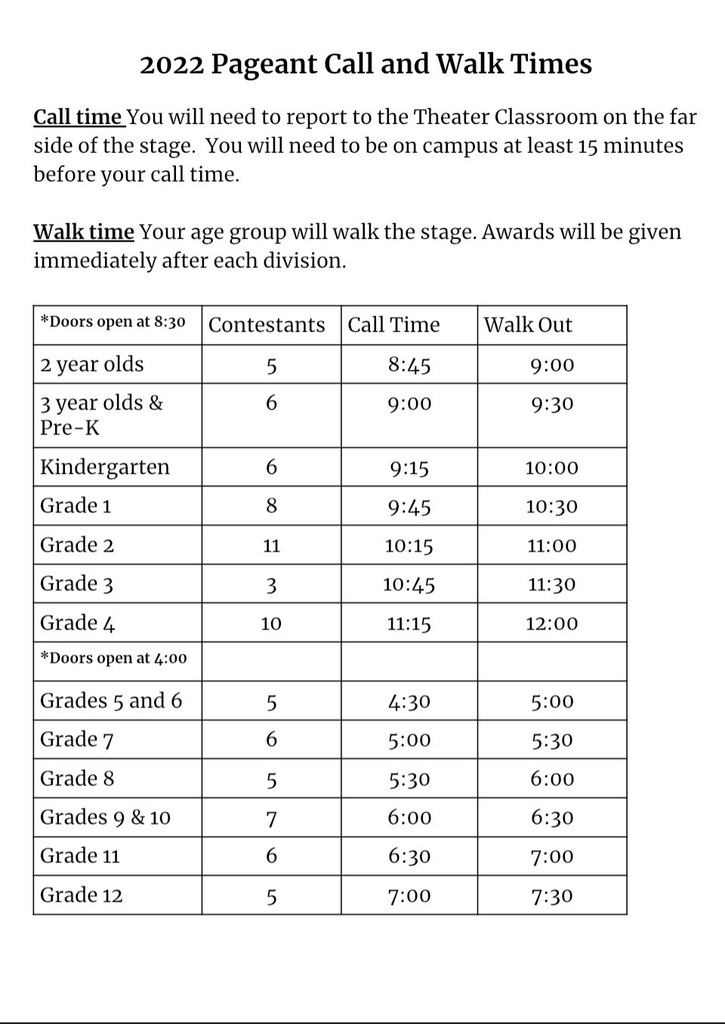 It was so great to have the 6 time State Champion Paragould Pride Band at OGMS today. This was a recruitment concert for our soon departing 6th graders. I have a feeling a whole lot of them will be in the band next year! ONLY THE BEST AT OGMS!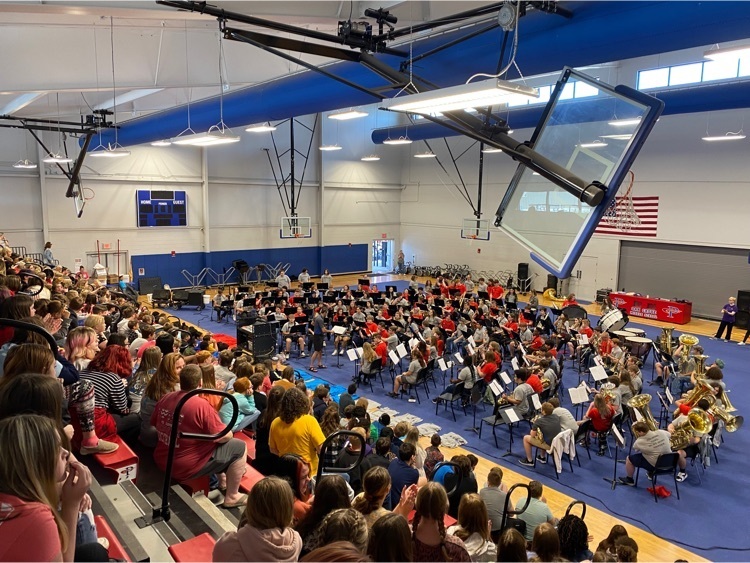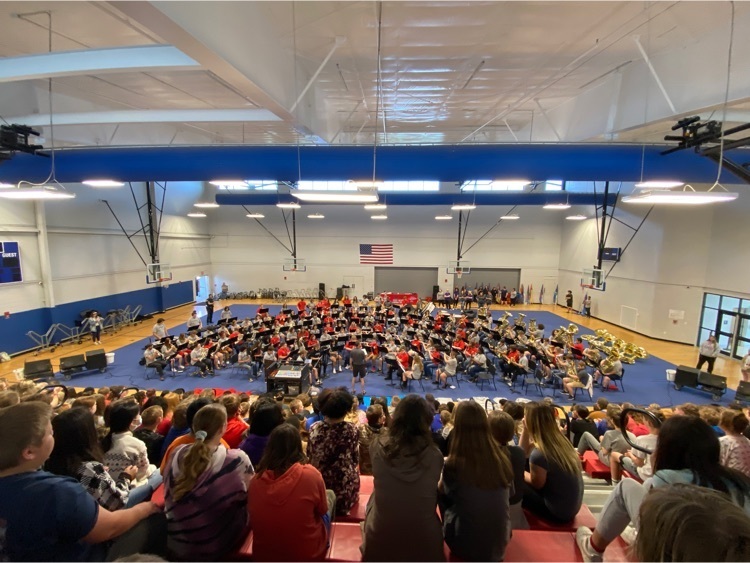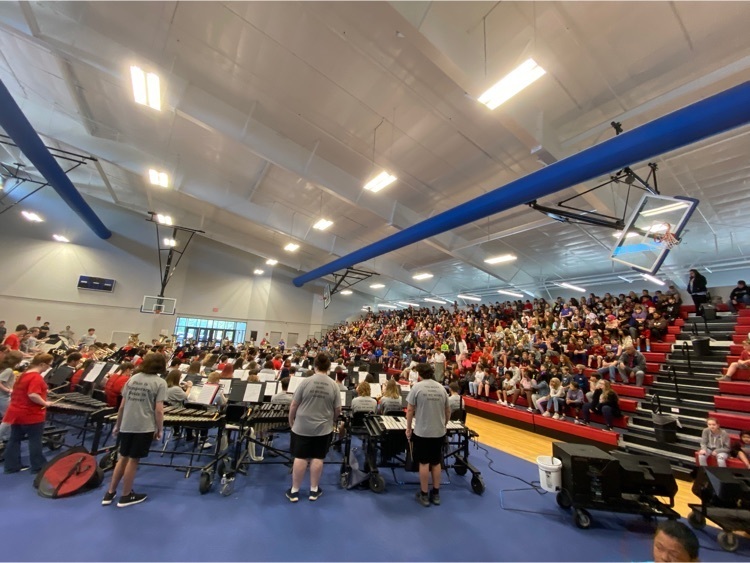 The OGMS 2021-2022 Yearbooks have arrived! We will have a signing party tomorrow for all students to participate in. If you purchased a yearbook, students will receive them tomorrow. If you still need to purchase one, we have a few copies left for $38! Bring money tomorrow if you wish to purchase one. ONLY THE BEST AT OGMS!

PSD releases 2022-2023 school year calendar. Go Rams!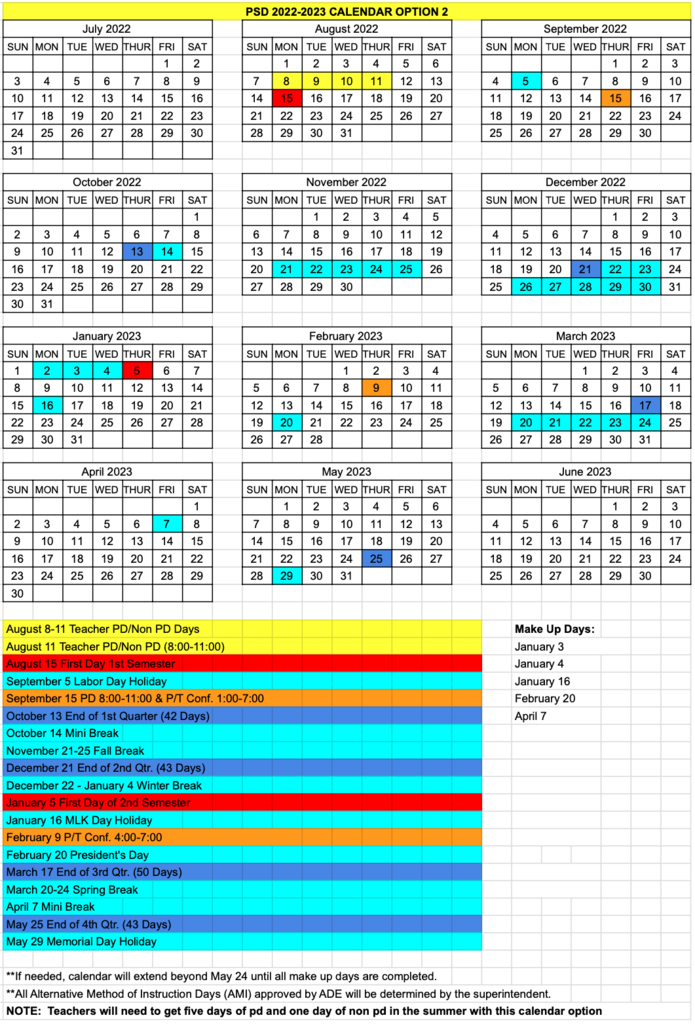 Thank you to all that came to our STEM night last night! Mid-term grades were sent home today so be sure to look at your child's grades. It's hard to believe we are half way through our last 9 weeks. Have a great weekend! ONLY THE BEST AT OGMS!

Don't forget about Family STEM (Science, Technology, Engineering and Math) Night tonight from 6-7 at OGMS!! Come out and join the fun! ONLY THE BEST AT OGMS!!

Don't forget - this Friday, April 22nd is the last day to sign up for the PSD Pageant that will be held on April 30th in the PHS Auditorium. Forms are available in each of our school offices. Ages 2 years old through 12th grade are allowed to enter. Email
jwallace@paragouldschools.net
for more information.
Join us this Thursday evening from 6:00 to 7:00 pm for our family STEM Night! Board games, LEGO, escape rooms, science demonstrations, and much more! It'll be a night of fun...and popcorn!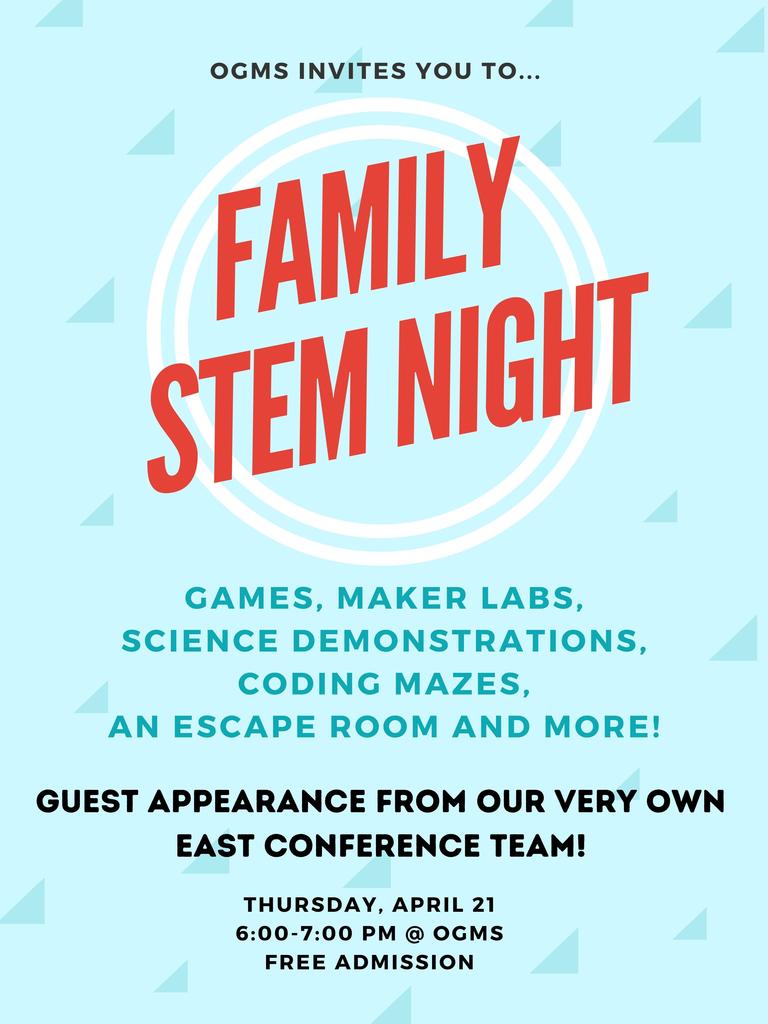 English PSD district administrators are closely monitoring the weather today. All car lines will start at 1:00 this afternoon (Wednesday, April 13). Buses are scheduled to run on a normal schedule. In the event severe storms arrive at or close to dismissal time, students will be held until the storms pass and it is safe to travel. All after school activities have been canceled. After care programs will be on normal schedule. Español Los administradores del distrito de PSD están monitoreando de cerca el clima de hoy. Todas las líneas de automóviles comenzarán a la 1:00 de esta tarde (Miércoles 13 de Abril). Los autobuses están programados para funcionar en un horario normal. En caso de que lleguen tormentas severas a la hora de salida o cerca de ella, los estudiantes serán retenidos hasta que pasen las tormentas y sea seguro viajar. Todas las actividades después de la escuela han sido canceladas. Los programas de cuidado posterior estarán en horario normal. Majol PSD district administrator rej kilok ilo aeer lale tok wot weather ne an ranin. Aolep wa ko renij line ilo awa ne 1:00 kiolok ilo wonje april 13. Alolep jukuul bus ko renij ettor ilo ieen ettor ko. Im ne elon lan ko renij bok jikier em enij m kajojo ajiri renij bed nan ne enij lak lon kein. Kio aolep ukkure ko renij bojrak. Elik aolep program kein renij bok bar schedule.

⚠️Due to the potential threat of severe weather during the early evening hours on Wednesday, 2nd-6th grade volleyball camp will move their dismissal time up by 1 hour. The awards ceremony will now begin at 5:00 tomorrow night.⚠️ The weather will be monitored closely by staff throughout the day. ‼️Please share & send to any friends you know who have a daughter attending camp.‼️

Don't forget we have two big events happening tonight: Pre-K/Kindergarten Registration 5:00 - 6:00pm and Family Game Night 6:00 - 7:00pm at Paragould Primary (1600 Country Club Road) AND GT/AP Family Night at 6:00pm in the PHS Auditorium (1701 West Court)
Parent Volunteer Meeting Date Change: Due to this evening's weather predictions, we are rescheduling this evening's parent volunteer meeting. We will be meeting on Monday, May 2, at 5:30 instead of tonight. There will be NO MEETING tonight; we apologize for any inconvenience. Everyone stay safe and dry!

Hey parents! This note is coming home in backpacks today. We're looking for parent volunteers to help with our spring dance (scheduled for May 13). More information about the dance itself will be coming home in backpacks closer to time; right now we're just looking for volunteers! Our volunteer meeting will begin on Monday, April 11, at 5:30 in the OGMS parent center (just come to the front door - you'll be directed) and should last less than an hour. If you're interested in helping with the dance in any way, we hope to see you!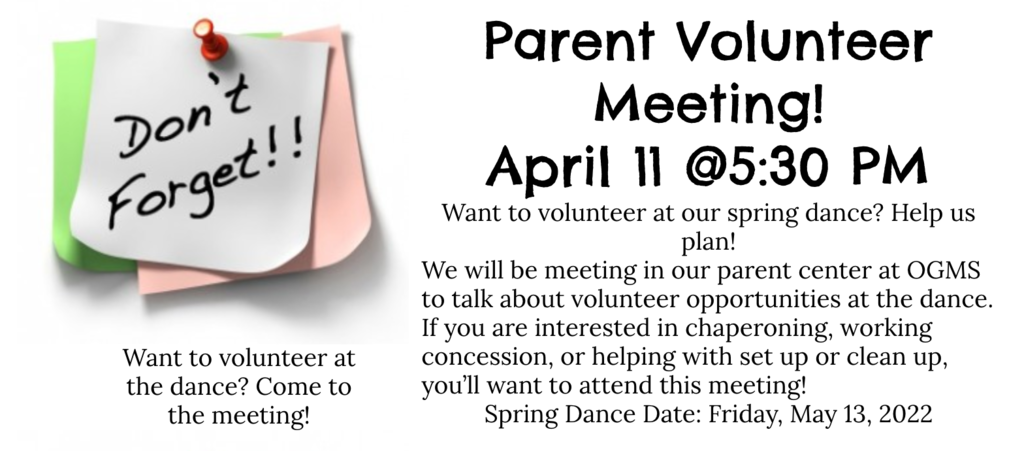 The PSD pageant is BACK! 👊 The pageant is hosted by the Paragould Dance program and entry forms are available in the office of each PSD campus. The forms are due on April 22nd and the pageant will be held April 30th in the Paragould High School auditorium. 2 years old through 12th grade are allowed to enter. A copy of the entry form is below or you can email
jwallace@paragouldschools.net
for more information.