ABOUT OAK GROVE MIDDLE SCHOOL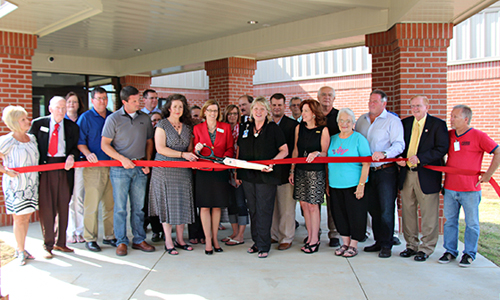 D.A.R.E.: Drug Abuse Resistance Education classes are taught to both 5th and 6th graders by community police officers. D.A.R.E. emphasizes drug awareness and teaches students character building skills. Students work in cooperative groups and learn to interact appropriately. A graduation ceremony is held at the end of the 5th grade D.A.R.E. session in November.
"SMART CHOICES – BETTER CHANCES:" Sixth grade students continue their drug awareness education with six weeks of "Smart Choices-Better Chances" instruction provided by the same community police officials that provide D.A.R.E. classes to fifth graders. Students view and discuss real world situations and how to react responsibly and appropriately.
INTRAMURAL VOLLEYBALL: Intramural volleyball is offered to all 5th and 6th grade girls at OGMS. Students sign up and are then divided into teams by the volleyball coach. Games are scheduled and teams participate in competition against each other. All students are guaranteed playing time. Travel teams are chosen by the coaches at the conclusion of intramural play and games continue with competition between area schools.
INTRAMURAL BASKETBALL: Intramural basketball is offered to all 5th and 6th grade girls and boys. Students are divided into teams by the P.E. teacher and participate after school in competition with each other. All students are guaranteed playing time. Separate traveling teams are then chosen by the coaches at the conclusion of the intramural schedule and games continue with competition between other nearby schools.
BOYS' CLUB FOOTBALL: OGMS supports student participation in the local Boys' Club Football Program held every August through October. Practices are scheduled on campus after school.
PRE-ADVANCED PLACEMENT: The Paragould School District is committed to providing all students with opportunities to engage in a rigorous, challenging curriculum. This is done through Pre-Advanced Placement courses. As early as 6th grade, we begin offering Pre-AP classes in math and/or literacy to those students who demonstrate the desire to be challenged. Multiple sections of Pre-AP classes are offered to accommodate students who qualify and demonstrate the willingness to do the extra work that is required.
GIFTED AND TALENTED: Students interested in GT can be referred by a teacher or parent for Gifted and Talented testing. Our GT classes are weekly pull-out classes where problem-solving activities and projects are completed. GT students also participate in Quiz Bowl and Odyssey of the Mind competitions.
CHOIR: Students have the opportunity to try out for different choir performances throughout the year. Performances include the annual Veteran's Day Assembly Choir, the Christmas Performance Choir, the Christmas Show Choir, and the Delta Symphony Orchestra Show Choir.
ASSEMBLIES AND FIELD TRIPS: Each nine weeks eligible students at OGMS will have the opportunity to participate in special assemblies and/or field trips. They cover a variety of interests including mini-pep rallies, historical studies, anti-bullying events, athletic events, musical and/or theatrical productions, etc.
B.A.M. Events: Students who work hard and exhibit good behavior are rewarded each nine weeks with B.A.M. (Behaviors Are Marvelous) Celebrations. Examples are extra activity time, movie and a snack, Sock Hop, Field Day, etc. Students not eligible one nine week period will have the opportunity to attend the B.A.M. event at the conclusion of the next nine weeks based upon work completed and good behavior.
STUDENT COUNCIL: 6th graders elect homeroom representatives to Student Council the first nine weeks. 5th grade elections are held during the second nine weeks. The Student Council meets regularly and sponsors school-wide events such as collection drives for the Food Pantry and Clothing Closet, Thanksgiving dinner donations, and the Christmas Shoppe. Student Council also provides a contribution to students who have lost their homes to fire or other catastrophic events.
SCIENCE LAB: All OGMS students have science class in a fully equipped science lab one day per week. Students become completely engaged as they conduct experiments to learn science in a very hands-on, kinesthetic atmosphere. Each grade level schedules an annual Science Fair every spring; winners of the 6th grade Fair progress to regional competition at Arkansas State University.
KEYBOARDING/E.A.S.T. Initiative: All fifth graders at OGMS are scheduled for keyboarding class to learn and improve their skills. E.A.S.T. Initiative is provided for sixth graders to continue to expand their technology experiences. OGMS provides computers for student use in each classroom as well as classroom sets of MacBook Air computers for teachers to check out to use for whole group instruction with students. The district is committed to providing opportunities designed to address the skills needed for the upcoming on-line testing requirements.
Parents play a critical role in their child's future. Our goal is to supply the most information possible for parents to make informed decisions about their child's growth. At OGMS we provide many opportunities for parent involvement. Recent discussion topics have included nutrition, testing, and internet safety. A weekly newsletter is published and parent center material is available through the library to keep parents informed of events at OGMS. Contact the Parent Coordinator Miss Whitteni Hale, whale@paragouldschools.net for further information.
The staff, parents, and community of Oak Grove will unite students from neighborhood elementary schools in a safe, positive, and caring environment. OGMS will promote academic excellence and expand curricular opportunities for all students. Through effective parental involvement and communication the OGMS learning community will successfully bridge our students' transition to the next educational level.