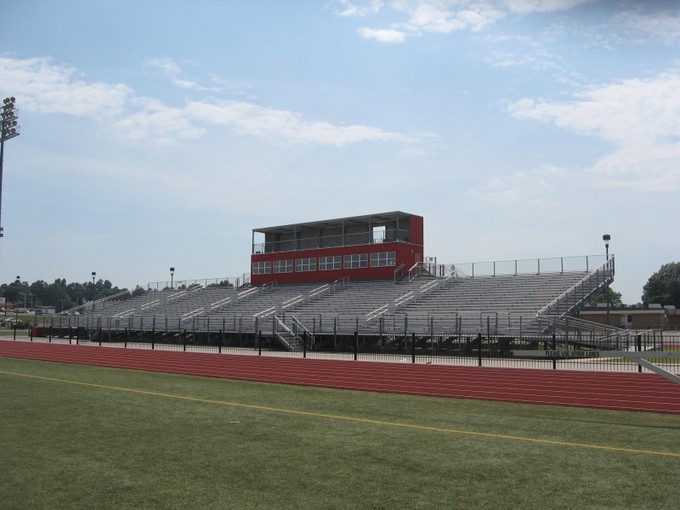 Paragould High School's Ram Stadium is located on Paragould's historic Court Street.
Ram Stadium boasts the newly renovated (2014) state of the art FieldTurf playing surface. FieldTurf is the latest in artificial turf technology, looks and feels just like natural grass but stays in perfect condition no matter what the weather.
The Ram Stadium press box provides the adjudicators an excellent vantage point and good read of your show; musically and visually.
Concession stands, containing a variety of food items, will be open for students, parents and fans a variety of food items. Please support the Paragould PRIDE Boosters at our concession stands.
Ram Stadium has a seating capacity of 4,000 seats (2,500 home side / 1,500 visitor side).
Free spectator and bus parking is available on the Paragould High School and Paragould Jr. High campuses.
The Paragould PRIDE Marching Band, Paragould PRIDE Boosters and the band directors would like to thank the Paragould Athletic Department and Administration for allowing the Paragould - McDonald's Marching Invitational to take place at Ram Stadium.
Paragould High School has some of the cleanest and most advanced sports facilities in the state of Arkansas. Please help us take care of these facilities and ensure the Paragould - McDonald's Marching Invitational will continue at Ram Stadium by making sure all students, parents, staff and directors follow the guidelines set by the Paragould Athletic Department.
Do not chew gum, eat food or candy, or drink sodas/sports drinks on the turf or track. Water is the only drink allowed on the track or turf.

Pets are not allowed into the facility.

Wheeled vehicles, including strollers, are not allowed on the track. Only competition manager approved wheeled vehicles will be used to transport equipment.

Do not climb on or over the fence.
Please stress the following AAA guidelines to your musical athletes:
Cell phones, mp3 players, or hand-held games are not allowed in any competition areas. The turf and track are considered competition areas.

All competitions are considered closed until the official running the event is present and opens the event for warm-up and competition.