EDIT MAIN
PRIDE Directors
---
Paragould PRIDE Band Directors
Richie Williams - Director of Bands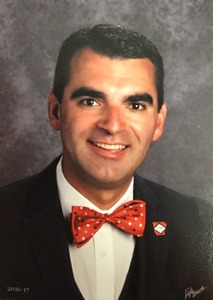 "Richie" Williams has been the Director of Bands at Paragould High School since 2008 and is the 13thdirector of the programs successful 83 year history. Mr. Williams previously taught band in the Westside School District of Jonesboro, AR. At Paragould, Mr. Williams conducts the Symphonic Band, the Paragould "PRIDE" Marching Band, the Sr. High Jazz Band, team teaches beginning brass & woodwind classes, team teaches Jr. High Intermediate Bands, and is the Instrumental Music Coordinator for the Paragould School District.
Mr. Williams is a Native American of the Cherokee and Apache tribes. His given Indian name is Guianta Mescatero, which when translated means "Red Magic". Born in Parsons, TN; Mr. Williams has resided in both Memphis & West Memphis, and has now lived in Paragould for the past 27 years, where he is a graduate of Paragould High School (formally known as Ridgecrest) . His previous public school directors and mentors include George Pokorski (Marion Schools), Trey Reely (previously of the Paragould Schools), and he interned with Steve Warner (Jonesboro Schools). Mr. Williams' high school accomplishments include Student Council President, President of the Arkansas Schools Student Council Board, All-State Trumpet, Lead Trumpet in the Inaugural All-State Jazz Band, and regular member of the First Band on the Regional level from 8th-12th grade on both French Horn & trumpet.
Mr. Williams attended Arkansas State University in Jonesboro, AR, where he studied trumpet with the legendary Richard Jorgensen, who has been Principal Chair Trumpet of the Arkansas Symphony Orchestra since 1976. He received both his Bachelors in Instrumental & Choral Music Education, as well as his Masters in Instrumental Wind Conducting. He has studied conducting with Dr. Tom O'Neal, Dr. Timothy Oliver, Dr. Neale Bartee, Dr. Jack Stamp, Dr. Ricky Brooks, and Dr. Gary Hill.
Mr. Williams' twelve year stint as Director of Bands at Paragould High School have seen the program receive a remarkable list of accomplishments and growth. Prior to teaching, he spent the previous ten years in management & sales, with the last six as a Regional Sales Director for a soft drink corporation. He is the 2012 Phi Beta Mu Outstanding Young Band Director of the Year for the State of Arkansas. He is also the 2015 School Band and Orchstra "50 Directors in America Who make A Difference". In addition, he is a 2016 & 2018 Recording Academy & GRAMMY Museum National Music Educator of the Year national quarterfinalist (top 188 music teachers in America). He is the 2016 Kiwanis Club of Paragould Business Person of the Year and the 2017 Paragould Christmas Parade Grand Marshall. Under his leadership, the band program has received a Blue Ribbon Award from the National Band Association as one of only 8 programs to receive this in 2017. NAMM has named the Paragould School District one of the Best Communities in America for four straight years for music education. His Symphonic Band was the featured Honor Ensemble at the 2017 Arkansas All-State Music Conference for Class AAAA. The Paragould Pride Marching Band is the 4-Time Consecutive Arkansas Marching Band State Champions for 2016, 2017, 2018, 2019 and they received 7th place in the nation at the US Bands National Championship in 2017. His bands are 11-time consecutive recipients of the ASBOA Sweepstakes Award (Arkansas' highest honor awarded to band programs), consistent recipients of Superior Ratings in Concert & Marching performances, National Champions of the Heritage Music Concert Festival, St. Louis, MO in 2010, 38-time Grand Champions and Reserve Grand Champions at various Arkansas, Tennessee, & Mississippi Invitational Marching Events. Mr. Williams' marching bands have received hundreds of awards & honors for various captions, class, & overall accomplishments. The program has also been one of the leaders in placing students in All-Region concert & jazz bands, as well as on the state level. Under Mr. Williams' leadership, the program has seen tremendous growth growing from 140+ students (7th-12th grade) in 2008 to it's current state of over 400+ students (7th-12th grade). Over 75% of the entire 7th grade class participates in beginning band each year, with over 35% of the entire 7th-12th grade campus participating in the band program!
Mr. Williams is an active marching & concert band adjudicator and his professional memberships include ASBOA, ABA, Phi Beta Mu, and National Band Association. He is a Board Member for Dixie Band Camp, the South's oldest band camp & the second oldest in the United States. He is also the Arkansas School Band & Orchestra Association (ASBOA) Region V Chairman and a member of the ASBOA Executive Board. He is a member of Kappa Kappa Psi. He was the Director of Music for the West View Baptist Church (SBC) in Paragould, AR from 2006-2018. From 2007-2017, Mr. Williams was the Public Address Announcer & "Voice of Lady Red Wolves Basketball" at Arkansas State University.
He has a gorgeous twelve year old daughter, named Dixie Danielle and a remarkably handsome seven year old son, named Dexter Alexander. In his "free time", Mr. Williams enjoys yard work, is the Master of Ceremonies and singer/performer in a local music variety show entitled "The Ultimate Oldies Show" at the Historic Collin's Theater, frequently serves as a Public Address Announcer, Master of Ceremonies, and a Public Speaker throughout the state of Arkansas, and enjoys the role of "The Best Daddy Ever", as awarded by his children. He attends All Saints' Episcopal Church in Paragould.
Click on picture for full story
---
Joshua Mobley - Assistant Director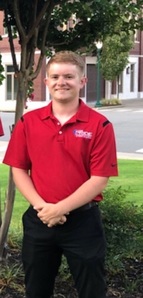 Mr. Joshua Mobley is an alumnus of Paragould High School and is in his second year as an assistant band director at the Paragould Jr. & Sr. High School. At Paragould, Mr. Mobley teaches beginning band tuba, baritone, flute, french horn, trombone, Senior High Concert Band and team teaches Junior High Intermediate Bands. Mr. Mobley also assists with teaching the Paragould PRIDE Marching Band and charting the music for the Paragould PRIDE's "Rock'n the Night Away" fundraiser. In the Fall of 2015, Mr. Mobley graduated with a bachelor's degree in Instrumental/Choral Music Education from Arkansas State University in Jonesboro, AR, where his primary instrument was Trumpet. During his time at ASU, Mr. Mobley played a variety of instruments in various ensembles, conducted, sang, and on weekends volunteered his time to sing/perform at various retirement homes. Mr. Mobley has worked every summer since graduating from high school at different Marching Band Camps. During these camps he taught marching fundamentals, low brass sectionals, high brass sectionals, and drum majors. Mr. Mobley was also inducted into the Omicron Omega chapter of Phi Mu Alpha Sinfonia during his 2012 fall semester of college. After being inducted he served as the Historian for the chapter during the 2014-2015 school term. Mr. Mobley is also a member and trumpet player for the famous Oldies Show. Mr. Mobley has been performing as a regular at the Oldies Show for over 9 years. During this time he has charted various charts for the oldies horn section and has been a featured soloist during several songs. He also is a regular performer with the Diamond Brass Band as the solo Flugelhorn player. Mr. Mobley has performed with the Diamond Brass Band ever since it started. After graduating from college, Mr. Mobley was hired as an Assistant Band Director for the Forrest City School District. While at Forrest City, Mr. Mobley taught various music classes, Jr. High Jazz Band, and Junior High Intermediate Band. He also assisted with the Forrest City High School Symphonic, Concert, and Marching Band. After teaching in public schools for several years, Mr. Mobley plans to pursue a Masters Degree in Brass Performance, then a Doctorate in Music Theory and Composition. Mr. Mobley is a proud alumnus of the Paragould School District and looks forward to working with the other PRIDE directors and other staff of Paragould Schools to push students to strive for excellence not only in band, but also in areas outside of the arts.
---
Carlos Serna - Assistant Director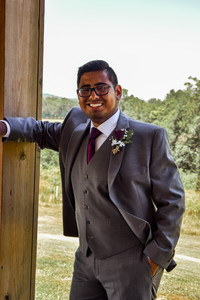 Mr. Carlos Serna is in his fourth year of teaching and in his second year as an assistant band director at Paragould Jr. and Sr. High. At Paragould, Mr. Serna teaches beginning percussion, beginning clarinet, general music, the Jr. High Intermediate Blue Band, the High School Volleyband, and the High School Drumline. Mr. Serna also assists with the High School Concert Band, and the "Paragould Pride" Marching Band. In the Fall of 2014, Mr. Serna graduated cum laude with a bachelor's degree in Instrumental/Choral Music Education from Arkansas State University in Jonesboro, AR. Mr. Serna is a well-rounded percussionist and performed in various ensembles and groups at Arkansas State University, around the state, and other states in the US. He has also worked with many percussion students and schools in the Jonesboro, Brookland, and Paragould areas. Mr. Serna has also presented master classes and clinincs in percussion in schools around Northest Arkansas.
Mr. Serna is from Monterrey, Nuevo LeÓn, Mexico and is the only native Mexican band director in the state of Arkansas. He was raised in Jonesboro, AR, where he attended Nettleton Schools and joined band in the 7th grade as a percussionist under the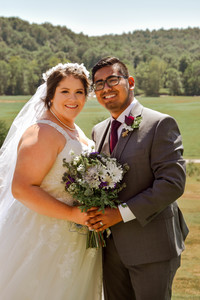 direction of Peggy Jeffries and Grant Brinkle. During his time at Nettleton Schools, Mr Serna received numerous band awards, multiple solo and ensemble first division awards, directed a percussion ensemble, performed in the Region Concert band, and was an All State Percussionist. Before coming to Paragould, Mr. Serna was an assistant band director at Poplar Bluff Jr. and Sr. High, in Poplar Bluff, MO. Mr. Serna taught 7th grade percussion, 8th grade percussion, High School percussion, and two World Percussion classes. He also assisted with the Jr. High Concert Band, Sr. High Concert Band, Wind Ensemble, and the "Sho-Me" Marching Band.
Mr. Serna is involved with many organizations such as: Phi Mu Alpha Sinfonia Fraternity, The National Honor Society of Collegiate Scholars, Percussive Arts Society, and the National Association for Music Education.
Mr. Serna married his beautiful wife Faith Serna on July 21, 2018. In his free time, he likes to play music at church, go to the movies, hang out with his friends and family, discover new shows on Netflix and Hulu, and play video games
---
Cody Ballard - Assistant Director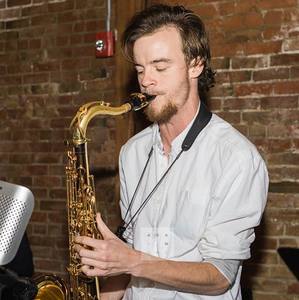 A native of Jonesboro Arkansas, Cody Ballard has been a musician a majority of his life as a multi-instrumentalist. His musicianship started under the direction of Mr. Grant Brinkle and Ms. Peggy Jefferies at Nettleton High School, his alma-mater. He served as a section leader and then drum major his senior year. He earned placement in the A.S.B.O.A. Region Honor Bands, both concert and jazz, multiple years. He also earned placement in one of the A.S.B.O.A Arkansas All-State Concert and Jazz Bands, ranking first band first chair in the Wind Symphony and first band first chair in the Jazz Band on tenor saxophone. In 2009, he then received a full performance scholarship to further his education and passion in music at Arkansas State University. Mr. Ballard served as a principle performer in the top instrumental ensembles garnering high praise from conductors, faculty and audience members. He sought and obtained leadership positions in the College, demonstrating his highly developed people skills and desire to teach and help others. He was the first recipient of the Thomas Miles O'Connor Jazz Performance Award at Arkansas State. After receiving a Bachelor of Music Education degree he received a Graduate Assistantship to a premier music conservatory, University of Cincinnati- College Conservatory of Music, to pursue his Master of Music degree in Jazz Studies. During his residency in Cincinnati he performed with world-class musicians in the tri-state area of Ohio, Indiana, and Kentucky. He gained top quality education from names such as Craig Bailey, Steve Allee, Rick VanMatre, James Bunte, Kim Pensyl, and many others. His playing always turns heads in any venue and is a source of pride for the institution and community. Throughout his educational preparation, Cody has worked diligently to expand his educational opportunities; attending clinics, teaching, and substitute teaching in the area. Every experience displays his high degree of preparation, grasp of best practices and the body of knowledge related to music education and performance.