ABOUT OAK GROVE ELEMENTARY HEALTH, WELLNESS, AND ENVIRONMENTAL SCIENCE SCHOOL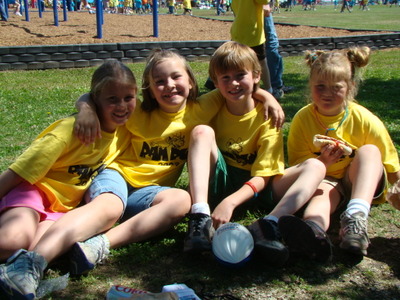 While building on the districts core curriculum, state and national standards, students at Oak Grove Elementary will be provided with innovative and challenging experiences designed to develop knowledge of their role in building and maintaining healthy bodies and a healthy world. Our scientific atmosphere creates an excitement for learning through discovery and stimulates the students to apply the critical and creative thinking required in science to other areas of study. Science lab classes will incorporate hands-on group exploration, with youngsters interacting with materials, making observations, testing hypotheses, and drawing and recording their own conclusions. Students will be taught the art of scientific investigation and problem solving with the use of computer technology. The curriculum is highly motivational with extensive "hands on" experiences.
Our theme also provides a rigorous curriculum that prepares students for the rapidly growing fields of health, physical fitness, sports, and medicine. The progressive curriculum exposes students to concepts of personal fitness management and health/fitness benefits. Our physical education program provides our students with opportunities to improve their health in ways in which no other school can. We also utilize local specialists and professionals in related health careers to assist in both classroom and laboratory instruction to create an environment that encourages students to focus on their own personal fitness and develop wellness plans to last a lifetime.
GOALS FOR OAK GROVE ELEMENTARY HEALTH, WELLNESS AND ENVIRONMENTAL SCIENCE WILL BE ACHIEVED BY:
Modern technology enriched science lab designed to provide hands-on experiments both in the science lab and as part of the outside classroom experience.
Opportunities to participate in environmental studies activities such as recycling, an aquatic resources education program including a fishing rodeo, gardening day, and nature walks that are documented with digital photography.

To create and maintain an organic garden as part of the outside classroom experience.

Unique physical education program that uses some of the most modern equipment in the field of health and nutrition to increase motivation and focus on lifelong fitness.

After school opportunities such as swimming, cooking lab, cardio lab, and 4-H activities that include recycling, nature walks/digital photography, and bicycling.

Exercise trail designed for hiking, running and biking.
The parents, staff, and administration at Oak Grove Elementary Health, Wellness, and Environmental Science School believe students will master the core curriculum in a family atmosphere that is collaborative, organized, and visually stimulating. Challenging programs, including hands-on theme related activities, inspire all students to improve academic performance and exceed our high expectations.